Prince William wants memorial to WW1 truce football match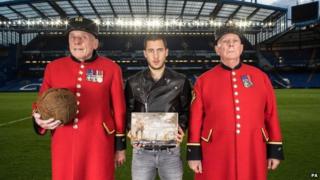 Prince William has thrown his support behind a commemorative project aimed at encouraging schoolchildren to mark the centenary of World War One.
The prince is asking pupils to design a memorial in honour of the "Christmas truce" football game of December 1914.
The match, between German and Allied troops, is remembered for bringing the war to a temporary halt.
More than 30,000 schools will also be sent an education pack to help them learn about the history of the game.
The winning memorial design, which will be chosen by the prince and Arsenal and England footballer Theo Walcott, will be built at the National Memorial Arboretum in Staffordshire and officially unveiled in December.
Prince William said: "We all grew up with the story of soldiers from both sides putting down their arms on Christmas Day, and it remains wholly relevant today as a message of hope over adversity, even in the bleakest of times.
"It promises to be a powerful way to engage and educate young people about such an important moment in our history."
The education pack, which will be available to schools from Monday, is aimed at helping children learn about the truce, and includes eye-witness accounts, photographs, drawings and letters from soldiers, some of which have never been published before.
Both the pack and the memorial design competition are part of a wider initiative called Football Remembers, which has been devised by the Premier League, Football League and the Football Association (FA) in collaboration with the British Council.
Pupils, and football clubs registered with the FA, are also to be invited to take part in a series of other activities to commemorate WW1 between now and December, which have yet to be revealed.
The British Council's chief executive Sir Martin Davidson said that the truce match was an illustration of how "people-to-people connections can triumph at a time of global crisis."
And his sentiments were echoed by FA chairman Greg Dyke, who added: "The scale of the loss is unthinkable and it is only right and fitting the game comes together to pay tribute to those that made the ultimate sacrifice."
Football Remembers will see every team in the Premier League and Football League, as well as all 24 England sides, mark the centenary of WW1.