Briton 'travelled to Syria terror camp', trial hears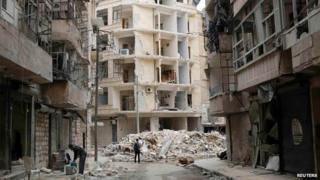 A British father-of-two travelled to Syria to attend a terrorist training camp and had discussed his intention of becoming "a martyr", a trial has heard.
Mashudur Choudhury undertook the training to pursue a "political, religious or ideological cause", the jury at Kingston Crown Court was told.
He was arrested at Gatwick Airport on his return on 26 October last year.
Mr Choudhury, 31, from Portsmouth, denies a charge of engaging in conduct in preparation of terrorist acts.
Opening the trial, prosecutor Alison Morgan told the court how Mr Choudhury had wanted to receive training in the use of firearms.
"The training was to include the use of firearms and the purpose of fighting was to pursue a political, religious or ideological cause", she told the jury.
She said Mr Chouhury left the UK on 8 October, travelling to Syria via a commercial flight to Turkey alongside four other men from the Portsmouth area.
'Running shoes'
Ms Morgan said it was not known what Mr Choudhury did while in Syria but that he was arrested on his return to the UK.
She told the jury: "He is not being prosecuted for actually fighting. There is no evidence of that. What you are considering is what he was preparing to do."
The prosecution claimed that in May last year Mr Choudhury had been in regular contact via Skype with another man, Ifthekar Jaman, who had travelled to Syria.
The jury heard how Mr Jaman had been interviewed over Skype by a journalist from the BBC's Newsnight programme in which he admitted he was fighting in the country.
Ms Morgan said that during the Skype exchanges Mr Choudhury, a former youth worker, had asked Mr Jaman about terrorism training and about buying a handgun.
Mr Jaman, who is believed to have died fighting in Syria, told him his training would last between one and six weeks.
Mr Choudhury asked about what clothes he would need at training camp and was told to bring "light running shoes" as he would be doing "a lot of running".
'Cover story'
She also told the court about angry text messages in July 2013 between the defendant and his wife, who was opposed to the idea of moving with the couple's two children.
In one message Mr Choudhury asked: "What good is a father, husband, brother who sits in comfort, sleeps in comfort, eats in comfort but neglects the cries of women being raped, children attacked, mothers being decapitated and daughters murdered?"
His wife said in reply: "Go die in battlefield. Go die, I really mean it, just go. I'll be relieved. At last. At last."
Ms Morgan said Mr Choudhury had come up with a "fake" cover story in 2010, telling his wife he had been diagnosed with stomach cancer.
She said the story was to "provide him with the perfect justification for his actions to the family that he left behind".
She told the court the defendant was accused of terrorism which she said involved the use or threat of serious violence "where the use of violence is designed to influence a government or to intimidate the public".
The trial is expected to last around two weeks.