Prison book ban may face legal challenge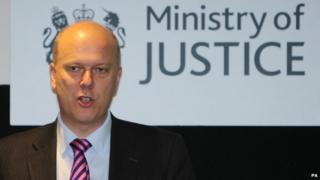 A government policy that bans books being sent to prisoners in England and Wales may face a legal challenge.
The Ministry of Justice will receive a claim from a female prisoner serving a life sentence, saying she has been left "in despair" by the ban.
The book ban is part a scheme which came into force in November and limits what prisoners can receive in parcels.
But the MoJ says the three-month window for appealing against a new policy has closed so the challenge is too late.
The Incentives and Earned Privileges scheme was introduced in England and Wales partly as an attempt to crack down on drugs getting into prisons.
'In despair'
Prisoners have since argued that books sent to them in parcels are key to their rehabilitation.
BBC Newsnight's political editor Emily Maitlis told the programme that she had spoken to the lawyers who are preparing the test case for the female prisoner, who is identified as BGJ and is serving a life sentence.
"She is an epilepsy sufferer, very highly qualified and she has said her life is in despair without access to these books, which have really been taking her through this life sentence that she will serve," she said.
Lawyers for the woman argue that the effects of the policy are particularly hard felt by women who depend on what they receive from the outside world to keep them motivated.
The MoJ said the lawyers had no grounds for their case because they had run out of time to make it.
But our correspondent said the lawyers planned to press on with their case, as they would be arguing that the policy has been introduced at different times in different prisons. In BGJ's case, she has only been affected over the past 10 days.
"The legal team says [the three-month deadline] doesn't matter because the piecemeal way [the policy] was introduced means their claimant has only just started feeling the effects of it now. She's devastated," Ms Maitlis said on Newsnight.
"If they win this, it could overturn the whole policy."
The legal challenge will be passed to a judge who will decide whether it is allowed to proceed.
Meanwhile, a separate case will be brought forward by the Howard League for Penal Reform later this week, which will claim that the new rules are unlawful.
In March, Justice Secretary Chris Grayling defended the policy through an open letter to poet laureate Carol Ann Duffy who led protests against the ban.
Ms Duffy had said the ban hurt the "soul of the country". But the justice secretary insisted it kept prisons free of drugs.
In the letter, Mr Grayling added that he had only specifically made a decision about "the availability of books in prisons" once, and that was to allow the novel Fifty Shades of Grey to be circulated in female prisons, in a bid to encourage reading.
He said that allowing prisoners to receive regular parcels would "put in jeopardy the efforts of prison staff to keep drugs and other illicit materials out of prisons".
The government has also maintained that prisoners can still use prison libraries or earn money to buy books.