River Island withdraws 'sexist' anti-nagging product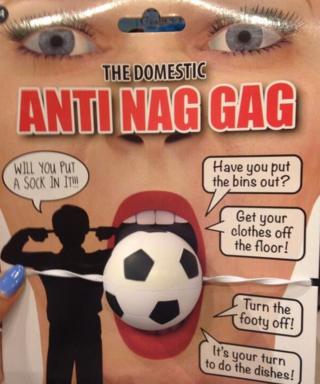 A novelty item which urged men to "gag" nagging women has been removed from River Island's website after Twitter users threatened to boycott the store.
The football on a string, dubbed the "Domestic Anti Nag Gag", was pictured gagging a woman's open mouth, with a caption from a male figure reading: "Will you put a sock in it!!!"
The product was labelled sexist and offensive by Twitter users.
Clothing chain River Island said it had been removed from sale.
Its withdrawal came after the actress and comic, Jenny Bede, shared a photo of the product on Twitter after spotting it in a River Island shop at the weekend.
She tweeted: "Found this in @RiverIslandPR today. Stunned. @EverydaySexism pic.twitter.com/o7puwCH1kC"
The actress tweeted it to the Everyday Sexism project, which has some 142,000 followers, where it was retweeted more than 200 times.
Bede later added: "Please keep tweeting @RiverIslandPR about this absolute atrocity they're selling."
The joke gag was on sale for £4 and had been shown surrounded by speech bubbles of a woman calling out phrases including, "Have you put the bins out?" and "Turn the footy off!"
A number of Twitter users described the product as sexist towards men and women, while others called it insulting.
Tweeter @rachreduk said: "@riverislandhelp hi, your anti-nag gag is highly offensive, would you please consider removing them from your stores?"
A statement from River Island to the Daily Telegraph on Tuesday said: "As soon as this product was brought to our attention we withdrew it from sale and removed it from our website."