Blencathra sale: Who owns Britain's mountains?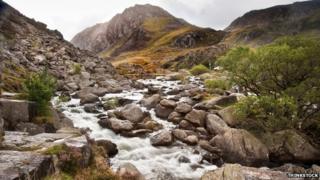 One of Britain's most famous mountains is up for sale, with a price tag of £1.75m.
The Earl of Lonsdale, Hugh Lowther, is looking to offload Blencathra, in the Lake District, to help settle a £9m tax bill.
The peak, which stands at 2,850ft (869m), was voted number seven in a recent poll of Britain's 10 favourite mountains.
But who owns the other nine?
The National Trust owns most of the top-rated mountain, Tryfan, in Snowdonia, and at least a share of two more in the top 10. The National Trust for Scotland, which is a separate organisation, owns two of the Scottish peaks.
The National Trust was gifted a number of fells in 1923 by the Fell and Rock Climbing Club of the English Lake District.
Second in the poll, carried out in January by Trail magazine, was Helvellyn, England's third highest peak, which is shared between the Lake District National Park Authority, on the east side, and United Utilities, on the west.
The summit of Snowdon, which came third in the poll, is jointly owned by the Snowdonia National Park Authority, the National Trust and a private estate, the park authority said.
Two of the other Scottish peaks in the top 10 are owned by charitable organisations.
Suilven, in the northern Highlands, was bought in 2005 by community group The Assynt Foundation, while the upper slopes of Ben Nevis, Britain's highest peak, are owned by the John Muir Trust, named after the Scot who was credited with helping to establish the US's national parks.
The John Muir Trust is considering bidding for Blencathra, its chief executive Stuart Brooks confirmed on Twitter.
But the National Trust will not be adding the mountain to its portfolio, writing on Twitter that this was because of the "existing high levels of protection and public access".
Trail magazine editor Simon Ingram said Blencathra was, for many people, "the perfect Lake District mountain", and the idea of it being sold was "surreal".
But whoever owns the mountain tops in years to come, climbing up there shouldn't be a problem - the Countryside Rights of Way Act 2000 covers mountains and moorland in England and Wales, while Scotland's "right to roam" laws allow widespread access to walkers.