Elena Baltacha: What do we know about liver cancer?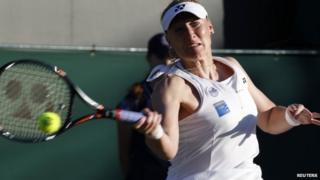 Former British number one tennis player Elena Baltacha has died of liver cancer at the age of 30.
The champion athlete learned she had the illness in mid-January, having been diagnosed years earlier at 19 with the chronic liver condition, primary sclerosing cholangitis.
But why does liver cancer happen and what are its symptoms?
One of the most complex organs in the human body, the liver is responsible for more than 500 functions, including digesting fats and proteins, removing toxins, releasing bile and thickening the blood.
Cancer can stop the liver doing its job properly and can cause these functions to fail completely.
According to the National Health Service (NHS), the exact cause of liver cancer is unknown. But it has been linked to damage to the liver or cirrhosis, which is liver scarring.
Years of alcohol misuse and hepatitis C are among the main causes of cirrhosis, which, in most cases, does not lead to liver cancer.
Baltacha suffered from primary sclerosing cholangitis for years before she discovered she had cancer.
The chronic condition, which is said to compromise the immune system, involves the bile ducts in the liver becoming progressively inflamed and damaged over time.
Liver cancer symptoms are said to be vague and often fail to appear until the illness is at an advanced stage.
They include:
Unexplained weight loss
Jaundice
Nausea
Vomiting
Feeling tired or weak
Loss of appetite
Feeling full after eating even small meals
Swelling of the abdomen
Itchy skin
Different treatments for liver cancer depend on how advanced the illness is. If it is discovered at an advanced stage, treatment is only used to relieve pain.
According to the NHS, only one in 10 people are diagnosed with the illness at an early stage. With the majority of patients, the cancer is likely to have advanced too far to be cured.
As such, only a fifth of people live for at least a year after being diagnosed, and just one in 20 live beyond five years.
Treatment options include surgery to remove a section of the liver, and radiofrequency ablation, which is a small electrical current used to destroy cancerous cells.
In some cases, a liver transplant may be an option, replacing the sick liver with a healthy donor one.