Maths and physics teaching: PhD graduates to get cash incentive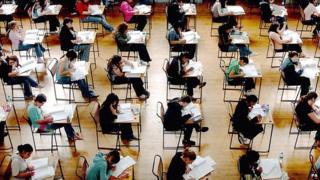 University fellows with a PhD in maths or physics are being offered thousands of pounds in extra wages and benefits to become school teachers in England.
Under a programme joint-funded by the government and businesses they would receive a benefits and salary package of up to £40,000 a year for two years.
Other postdoctoral teacher trainees start on a minimum salary of £17,000.
The scheme aims to get more young people to study the subjects for longer.
It follows a warning last summer by recruitment expert Prof John Howson, of Oxford Brookes University, of a shortage of maths and science teachers.
'Salary uplifts'
The "Maths and Physics Uplift Programme" is part of the Researchers in Schools training programme for PhD graduates.
It is joint-funded by the government and businesses including Samsung, GlaxoSmithKline, Barclays and BAE Systems.
Individual trainees are sponsored through the programme, including a salary "uplift".
The teachers on the programme will also be paid £40,000 for a third year when they are fully qualified.
In the first year of the scheme, PhD graduates are trained to achieve qualified teacher status.
During the second year they teach to meet the full requirements of their "newly qualified teacher" year but through a reduced timetable so they can "promote research and champion university access within schools" and can also carry out their own academic research.
Education minister Elizabeth Truss said too many teenagers thought maths and physics were "niche subjects", adding: "That couldn't be further from the truth.
"They open the door to careers in everything from business or journalism to technology or engineering.
"By getting experts into schools we can build a pipeline from GCSE through to A-level and beyond into the world of work - teenagers studying these subjects will go on to underpin a flourishing UK economy," she said.
The DfE said it would make teaching of the subjects "more inspirational, practical and cutting-edge - transforming the way the subjects are taught in schools in England and inspiring more pupils to study them".
"This will lead to more young people going into highly paid careers using these qualifications," it added.