Police and crime commissioner scheme on probation, MPs say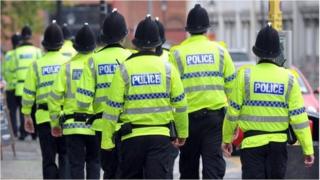 The concept of police and crime commissioners remains "on probation" two years after the first elections, a committee of MPs has said.
The Home Affairs Committee said poor turnout meant the value of PCCs would be doubted until more people voted.
Committee chairman Keith Vaz also said PCCs should be elected along with their staff to stop them hiring "cronies".
The Home Office said PCCs, who oversee police forces in England and Wales, had brought "accountability" to forces.
In a progress report on PCCs, the committee said it was disappointing that the public had not voted in greater numbers in November 2012, when 15% of eligible voters took part.
The MPs said they hoped turnout would be better at the May 2016 elections.
"Until then, and whilst the nascent work of PCCs is still to have its full effect on the public's perception of local policing, it is inevitable that many will consider the concept of police and crime commissioners to be on probation," their report said.
Trust 'risk'
The committee questioned the manner in which many PCCs had taken on deputies or assistants, warning that the appointments raised "inevitable accusations of cronyism".
Mr Vaz said existing police and crime panels - which scrutinise the work of PCCs - should be able to veto appointments.
"Some commissioners have fallen well short of the public's expectations and urgent reforms are needed to ensure that this concept does not put at risk public trust and engagement in the police," he said.
"Deputies should not be cronies that are given their job on the basis of nepotism.
"By electing them on the same ticket we ensure that the public will be able to have their say on someone who often acts with the powers of the commissioner."
Mr Vaz also said police and crime panels should have stronger powers to scrutinise PCCs' removal of chief constables.
And he said all PCCs should "review their auditing arrangements immediately" to ensure their setting of targets did not "promote the manipulation of crime figures".
The committee also recommended newly elected PCCs should be given a month between polling day and taking office to receive training.
Mr Vaz told Radio 4's Today programme: "The jury's still out, but the important point is that what we've not said is: 'Get rid of them'.
"We actually think they ought to be allowed the opportunity of making it better and there are many examples of good commissioners."
He added that the way PCCs were introduced was a "bit of a rushed job" and that changes were now necessary to improve the system.
'Increased awareness'
A Home Office spokesman said there was "nothing to stop" PCCs announcing who their deputy would be in advance of future elections.
"It is a matter for PCCs and the public that elects them," he said.
He said the introduction of PCCs had been a "significant democratic reform of policing", bringing "accountability to how chief constables and their forces perform".
"Public awareness of PCCs has increased greatly, in stark contrast to that of the anonymous police authorities they replaced," he added.