UK charities help Afghanistan landslide rescue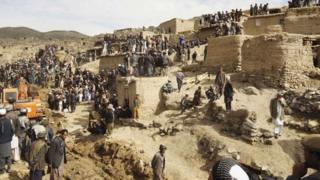 UK charities are helping the rescue effort in Afghanistan after a landslide that is feared to have buried at least 2,000 people.
The UN said more than 350 bodies had been recovered in the remote north-east Afghan province of Badakhshan.
Save the Children said it had sent five ambulances to the northern eastern mountain village to provide crucial medical assistance.
Islamic Relief also has a team travelling to the area.
Save the Children is also planning to distribute blankets and urgently needed medical assistance.
A spokeswoman for the charity said: "We are responding on the ground already. When it happened we sent five ambulances immediately.
"The concern is that there is a risk of more landslides, and another 250 homes are at immediate risk."
Islamic Relief's Disaster Response team said its country director and other charity staff were on their way to the devastated area from Kabul to help the relief effort.
'Readying response'
Other British charities said they were "monitoring" the situation and stood ready to provide assistance if it was requested.
Mark Bowden, Save the Children's humanitarian co-ordinator for Afghanistan, told Sky News rescue teams had arrived quickly on the scene and efforts were focused on finding shelter for the thousands displaced in the natural disaster.
He said: "The international forces here have made available a C130 aircraft that will be invaluable in getting food to the area."
Oxfam said it was waiting for an assessment of the disaster zone and was ready to provide aid if it was needed.
Its Afghanistan country director John Watt said: "As the search and rescue operation continues, the immediate needs of over 1,000 families must urgently be met.
"While communications are proving difficult, we can expect providing clean water, food, and temporary shelter will be the most urgent priorities. Oxfam - together with our Afghan partners in the province - is readying a response."
International Development Secretary Justine Greening said she sent her "deepest sympathies" to those affected.
"The UK is closely monitoring the situation and stands ready to provide further assistance as needed. Our recent £10m support to the UN's Common Humanitarian Fund will ensure additional relief supplies can be delivered as required."
Meanwhile, Foreign Office minister Baroness Sayeeda Warsi tweeted her condolences to those caught up in the disaster.
She wrote: "Deeply saddened by news of devastating mudslide in #Afghanistan. Thoughts and prayers are with the victims and their families."
The commander of the International Security Assistance Force (Isaf), Gen Joseph F Dunford Jr, and the deputy Nato senior civilian representative, Lee Litzenberger, on behalf of the Nato-led Isaf mission expressed their "deepest condolences to the victims and families of this ongoing tragedy".
Hundreds of homes were buried on Friday when a section of a mountain collapsed following torrential rain.
Local police handed out bread and water to the thousands of people who spent the night without shelter.
Much of north and east Afghanistan has been hit by heavy rain in recent days.