Appeal over decision to halt fraud trial amid legal aid row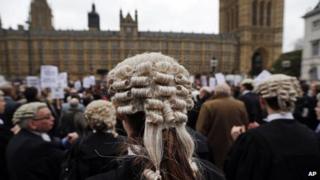 A decision to halt a fraud trial after the defendants said legal aid cuts meant they could not find barristers to represent them is to be challenged by the Financial Conduct Authority.
Judge Anthony Leonard said it would be a "violation" of the legal process to allow the FCA's prosecution on an alleged £4.9m land fraud to proceed.
But the FCA says it is to seek leave to appeal.
Legal aid fees in England and Wales have been cut by up to 30%.
That has seen many barristers refusing to take on long or complex cases.
The case was brought last year by the FCA against eight men, five of whom were subject to Judge Leonard's ruling at Southwark Crown Court on Thursday.
It concerned the activities of Plott UK Ltd, European Property Investments Ltd and Stirling Alexander Ltd. The companies are believed to have taken money UK investors between 2008 and 2011.
The FCA issued a brief statement to confirm it would be seeking leave to appeal; a hearing is expected to take place at the Court of Appeal in the next few months.
'Beyond question'
The Ministry of Justice has been seeking to trim its £2bn-a-year legal aid bill.
It says its proposals - due to come into effect after the summer of 2015 - would cuts fees in complex, high-cost cases by up to 30%, and in other crown court work by up to 18%.
In their search for suitable representation, the defence team in the fraud case had contacted 70 barrister chambers. Only one barrister put himself forward, but he later withdrew his services.
It had been feared the defendants would have to defend themselves - but prosecutors agreed this would have been a breach of their human rights.
The Ministry of Justice said the government has made sure that the Public Defender Service (PDS) had a number of suitably qualified lawyers who could act in this case.
But in his ruling, Judge Leonard said it was "beyond question" that the PDS was "not in a position to provide sufficient representation", and he refused to adjourn the case.
The case against the men was "complex and substantial", the court heard, involving 46,030 pages of evidence and 864,000 lines of spreadsheet data.