Coalition split over knife crime sentencing policy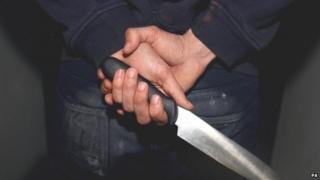 A proposal for tougher penalties for knife crime has sparked a row between Liberal Democrats and Conservatives.
Justice Secretary Chris Grayling wants to impose a mandatory six-month jail term for any adult convicted of a second offence involving a knife.
But senior Lib Dems argue judges should be trusted to use their discretion.
BBC political correspondent Carole Walker said the argument had intensified in the wake of the stabbing of Leeds teacher Ann Maguire.
Conservative MP Nick de Bois plans to amend proposed legislation currently going through Parliament to try and bring about the change.
'Inadequate'
He told the BBC there was growing support among his colleagues for a tougher sentencing response to knife-related crimes.
At least 25 other Tory MPs, he said, were backing his call for adults convicted of a second offence involving a knife to get a six-month minimum sentence.
Under his plans, under-18s guilty of such offences would receive four-month mandatory detention orders.
A new offence of using a knife to threaten someone, carrying a mandatory prison term, came into effect in 2012.
But critics say judges - who retain leeway to impose non-custodial sentences in "exceptional circumstances" - were too often favouring the latter course.
"We need to go further, the statistics prove that," he told BBC Radio 4's Today.
"I am afraid the discretion of the judges, in my opinion, and I believe of many other people is rather inadequate when we actually see sentencing of something of something like 4,500 people getting community sentences, 3,200 just getting a caution and a fine. That's not satisfactory."
'Clear signal'
The move is understood to have the support of prominent Conservatives including Home Secretary Theresa May and Education Secretary Michael Gove.
Mr Gove told Sky News that the government must send a "very clear signal" that knife crime would not be tolerated.
"It is absolutely important that we use Parliament to communicate to the public - and to anyone tempted to carry a knife in public - that the sentence for behaving in this way will be clear and firm and tough," he said.
But in a leaked letter obtained by the Daily Mail, the Lib Dem MP and Chief Secretary to the Treasury Danny Alexander said the policy "would impose a substantial new pressure on the prison population" and the proposal "would certainly not be affordable before 2016-17".
'Gimmicks'
Lib Dem sources said a debate was going on in government about doing more to deter knife crime and the party would back workable solutions not "tough-sounding gimmicks".
"Whilst minimum sentencing might sound attractive in media headlines, there is a serious risk it could undermine the role of the judges who are best placed to decide on sentencing by virtue of their role," they said.
"Sending youngsters automatically to jail regardless of the circumstances also has the potential to turn them into hardened criminals and can lead to more, not less crime."
A government source said no final decision has been taken.
The move to impose a mandatory prison sentence for adults convicted of a second knife offence was first mooted by Mr Grayling in 2012.
A 15-year-old boy accused of stabbing Mrs Maguire is due to appear at Leeds Crown Court on Friday.