Constance Briscoe's fall from grace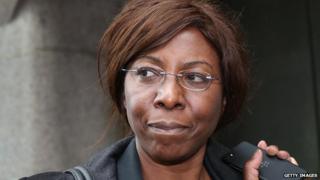 Barrister Constance Briscoe has been found guilty of lying to police investigating former cabinet minister Chris Huhne's speeding points case - and she now faces a fresh probe into her actions during a libel case. But what lies behind her fall from grace?
Briscoe forged a successful career as a barrister, part-time judge and a best-selling author of the book Ugly, about her traumatic childhood.
Her dramatic fall from grace has its roots in the bitter marriage break-up of two of her neighbours in Clapham, south London.
Briscoe, 56, got involved in the split between former Liberal Democrat cabinet minister Chris Huhne and his wife, Vicky Pryce.
In 2010 a scorned Pryce was determined to wreak revenge on her husband after he had an affair with his aide, Carina Trimingham.
Her chosen means was to publicise how in 2003 Huhne had engineered it so that three penalty points he had incurred for speeding were placed on Pryce's driving licence.
Such publicity would be toxic for a cabinet minister. Stories began to appear in the press that mentioned how Pryce was being supported by her friend, the judge Constance Briscoe, to whom she had spoken about the points swapping back in 2003.
The police started to investigate the case and took a statement from Briscoe.
She appeared to offer strong corroborative evidence against Huhne because Pryce had told her about him pressurising her into taking his points at the time.
And as a barrister and part-time judge she had enormous credibility - a star prosecution witness.
Dropped as witness
However, Huhne's lawyers were suspicious of her involvement and of a statement she had given in which she had denied having contact with the press over the story.
Eventually the Mail On Sunday was made to reveal evidence showing extensive contact between Briscoe and one of its journalists - the apparent opposite of what she had told police.
Briscoe was dropped as a witness and an investigation began into her involvement in the Huhne-Pryce case.
In an extraordinary twist in an already extraordinary tale, less than a year after they were both sentenced to eight months imprisonment for perverting the course of justice, Briscoe faced trial at the same court, on three counts of perverting the course of justice.
In her case, the allegations were that she had lied to the police, altered a witness statement to downplay her role in contacts with the press, and had then sent a false document to an expert witness to explain the apparent alteration to her witness statement.
And in a curious echo of her friend Pryce's first trial, a jury at Southwark Crown Court could not decide on a verdict. A retrial then took place at the Old Bailey.
'Non-medical language'
Now there are new questions about her honesty, stemming from evidence given to a libel case in 2008 brought by her mother.
In 2006, Briscoe published her memoir Ugly. The book details a childhood of appalling physical and mental abuse, principally at the hands of her mother, Carmen.
It begins: '''Do your parents know you're here?' asked the lady at Social Services. 'No,' I said, 'but I want to know about children's homes.'
"If my mother found out what I was doing, I would only get a beating."
Despite what she relates about her poor start in life, Briscoe 's career took off.
In 2009 she told the BBC: "I come from nowhere, I sit in a capacity as a part-time judge, and so I have gone against all the norms that stood in the way of one coming from nowhere. So, dignity? Yeah, I think I give the judiciary an enormous amount of dignity."
Her mother, Carmen Briscoe-Mitchell, has always denied the allegations of abuse.
In 2008 she sued for libel over the book, and lost. During the trial, Constance Briscoe submitted medical evidence that supported her account of physical abuse.
An investigation for BBC Radio 4's The Report has seen copies of medical letters from doctors at a London hospital that appear to record the evidence of abuse.
They are dated from 1971 and 1972. However, one of the doctors whose signature appears on the letters says he does not believe he wrote two of them.
He points to a number of inconsistent factors, including the use of non-medical language.
Carmen Briscoe-Mitchell attended every day of her daughter's trials for perverting the course of justice. Following Thursday's guilty verdicts at the Old Bailey, Carmen Briscoe-Mitchell is determined to restore her own reputation.
"She knows it's lies. She knows it. So I think she'll come and say, 'Mum, I'm sorry.' And I'm waiting, that's what I'm fighting for," she said.
"I'm not fighting for money, I'm not fighting for anything. All I want is the truth."
The BBC has passed its evidence to the Metropolitan Police, which has confirmed it will form part of an ongoing inquiry into Constance Briscoe.
Whatever this second police investigation reveals, it now seems almost certain that a woman who once sat in judgement and sentenced others, will face a custodial sentence of her own.