Duchess leads mourners at brother Mark Shand's funeral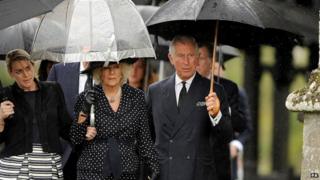 The Duchess of Cornwall has led mourners at the funeral of her brother Mark Shand in Stourpaine, Dorset.
The conservationist and travel writer, 62, died on 23 April after falling and hitting his head in New York, where he had hosted a charity auction.
The Prince of Wales accompanied his wife as about 180 people gathered for a private service at Holy Trinity Church.
Mr Shand's body was flown back from the US on a private plane after a medical examiner said his death was accidental.
His biodegradable wicker coffin was adorned by garlands of flowers at the funeral.
Camilla walked into the church accompanied by Prince Charles and her daughter, Laura Lopes.
Others in attendance included Camilla's sister, Annabel Elliot, and her daughter Katie Elliot, and Mr Shand's 19-year-old daughter, Ayesha.
His nephews, Tom Parker Bowles and Tom Elliot, who had accompanied the body on the flight from the US, welcomed the mourners to the church.
Both Mr Parker Bowles and Mr Elliot gave readings at the service.
Musician Yusuf Islam, formerly known as Cat Stevens, sang an acoustic version of his song Wild World, and there were tributes from Mr Shand's daughter and the celebrated photographer Don McCullin, a close friend.
Clarence House issued a statement after Mr Shand's death to say the Duchess of Cornwall has been left "devastated" by the news.
Mr Shand's rescue of Tara, a female elephant he saved from the streets of eastern India and rode 600 miles across the country in 1988, inspired his book Travels On My Elephant.
It also led to the foundation of the conservation charity Elephant Family, which has launched a memorial fund in his name.
Mr Shand and his sisters spent time together at Annabel Elliot's home in Stourpaine and he once described her house as the family's "centre". Holy Trinity Church was also the venue in 2006 for the funeral of their father, Major Bruce Shand.