Legal aid row leads to halting of serious fraud trial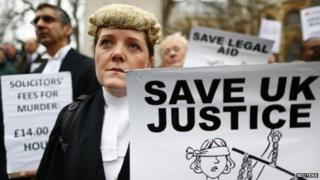 A judge has halted a serious fraud trial after defendants claimed they could not get adequate representation because of cuts to legal aid.
Alex Cameron QC - the prime minister's brother, working free of charge on the bid to halt the case - said the defendants would not get a fair trial.
The Ministry of Justice said there were "suitably qualified" lawyers available.
Many barristers in England and Wales are refusing to take on complex cases because of 30% cuts to their fees.
Judge Anthony Leonard told Southwark Crown Court that the defence had made "very substantial... but unsuccessful" efforts to find barristers to fight the defendants' case.
It would be a "violation" of the legal process to allow the case to proceed, he added.
Contracts terminated
The case was brought last year by the Financial Conduct Authority (FCA) against Scott Crawley and seven other men.
It concerned the activities of Plott UK Ltd, European Property Investments Ltd and Stirling Alexander Ltd.
The companies are believed to have taken more than £5m from UK investors between 2008 and 2011, the FCA said at the time.
Outside court, one of the defendant's lawyers said the collapse of the trial should be a "wake-up call" to ministers.
"It is in the interests of justice for both sides that serious and complex cases of this sort should be properly prosecuted and properly tried," said solicitor Philip Smith.
"That means with equality of arms whereby you have the best barristers on both sides."
He said the involvement of the prime minister's brother had been "absolutely pivotal" in persuading the judge he could stop the trial.
Arguing on Monday that the case against five defendants should not go ahead, Mr Cameron said: "A stay is exceptional, but so is lack of representation in this country. We are worried about a fair trial.
"It's not the fault of the FCA but we do [blame] the state more widely."
Asked on a visit to south-west London about his brother's actions, the Prime Minister said: "We have an independent judicial system in this country - and that is an absolutely vital part of being a free country.
"So my brother has made arguments on behalf of his clients in court and the judge has made a decision, that's the process, that's the way it should be."
The government has cut the fees for complex, high-cost cases by 30%, and in other Crown Court work by up to 18%.
Scotland has a separate legal system.
'Beyond question'
Nigel Lithman QC, chairman of the Criminal Bar Association which has been opposing government cuts to legal aid, said skilled and experienced advocates were essential in very high-cost cases (VHCCs).
"Each advocate who had signed a contract to undertake a VHCC case was presented by the government with a choice - either to accept a 30% cut in their fees or to terminate their contract. They chose to terminate their contracts," he said.
"Since then, we understand that no barrister has signed a new contract to undertake a VHCC at the reduced rates."
Legal aid costs about £2bn a year - half goes on criminal defence and the rest on civil cases including mental health, asylum and family law involving domestic violence, forced marriage or child abduction.
The Ministry of Justice said in a statement: "Barristers have refused to work on this case - and a number of other very high-cost court cases - because they do not agree with savings the government is making to legal aid.
"Even after the savings, if a QC picked up a case like this one, they could expect to receive around £100,000 for working on it, with a junior barrister receiving around £60,000.
"The government has made sure that the Public Defender Service (PDS) has a number of suitably qualified advocates who could act in this case."
However, in his ruling Judge Leonard said it was "beyond question" that the PDS was "not in a position to provide sufficient representation".
The case against the men was "complex and substantial", the court heard, involving 46,030 pages of evidence and 864,000 lines of spreadsheet data.
In their search for suitable representation, the defence team contacted 70 barrister chambers with the only one who put himself forward withdrawing in January.
It had been feared the defendants would have to defend themselves - but prosecutors agreed this would have been a breach of their human rights.
Shadow justice secretary Sadiq Khan said he knew of eight other complex criminal cases where barristers could not be found, including those relating to the Libor rate-fixing scandal. He added: "Time and again ministers have been warned their changes to legal aid could lead to miscarriages of justice and trials collapsing. Today, these warnings have come true."