Constance Briscoe jury retires to consider verdicts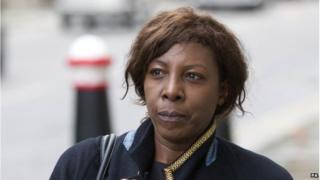 The jury has retired to consider its verdicts in the case of a lawyer who allegedly lied to police investigating former cabinet minister Chris Huhne.
Barrister and part-time judge Constance Briscoe is accused of lying to police investigating Mr Huhne, who got his wife to take speeding points for him.
She denies three counts of intending to pervert the course of justice.
Mr Huhne and Vicky Pryce, who are now divorced, were both jailed last year for perverting the course of justice.
'Intermediary'
The jury at the Old Bailey heard Ms Briscoe was a friend and neighbour of Mr Huhne and Ms Pryce in Clapham, London.
Prosecutors said she acted as an intermediary between Ms Pryce and reporters after the couple separated and Ms Pryce decided to reveal the points-swapping publicly.
Ms Briscoe then provided misleading information to police, the prosecution said.
Ms Briscoe denied this.
Mr Huhne and Ms Pryce have both since been released from prison.