Air and sea travel problems ease after IT fault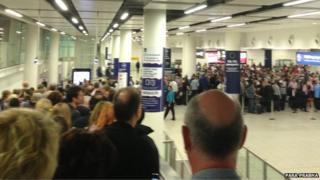 Airports and sea ports are returning to normal following an IT glitch which caused long delays for passengers.
The fault on UK Border Force computers, which began on Wednesday, disrupted airports including Heathrow, Gatwick, Stansted and Birmingham with ports such as Dover and Southampton also affected.
The Home Office apologised and said engineers had been working "through the night" on the issue.
Gatwick and Heathrow airports said it was "business as usual" by Thursday.
Immigration minister James Brokenshire said: "Our engineers have been working through the night to fix the temporary IT problems and all ports are now functioning normally.
"We apologise for the delays that some passengers experienced at passport controls yesterday, but security must remain our priority at all times.
"I visited Heathrow early this morning and have asked technical staff to continue to look into the incident to ensure lessons are learnt."
A spokesman for Gatwick Airport told BBC News that the queues had reduced overnight, its IT systems were "back up and running" and it was "business as usual" for passengers.
Officials at Heathrow confirmed there were no queues at their terminals on Thursday morning.
The glitch meant UK Border Force staff were forced to manually input passport details for those arriving in the UK rather than simply scanning documents.
The delays had a particular impact on non-EU passengers, and extra Border Force staff were called in to try to reduce the queuing time.
The BBC's Sarah Falkland said delays of up to 90 minutes befell passengers on Wednesday evening, while the queuing time at Gatwick was even longer.
She said the problem affected both self-service e-Passport gates - which operate by running a facial recognition check against a traveller's passport - and staffed customs desks.
At London Luton Airport, passenger Simon Kalman, 57, of Golders Green, north London, told BBC News he had been queuing alongside about 2,000 other people, and had waited for almost two hours.
Mr Kalman, who arrived at the airport at 22:45 BST on Wednesday after flying from Barcelona, said: "It was a total mess, there was limited water available and people were getting very frustrated."
Christian Walton said the immigration hall had been "packed" at Heathrow airport after his flight from Zurich landed at 19:50 BST on Wednesday.
He said: "Nobody could tell us how long the wait would be. It took about 20 minutes for somebody to start handing out water, but only after people complained.
"People were joking a bit, generally well-behaved and resigned to a long wait, typically British. Border agency staff were professional, friendly and helpful but clearly struggling with failed computers."