Andy Coulson: 'I may not have got Downing Street job'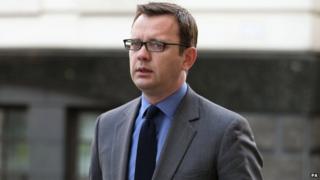 Former News of the World editor Andy Coulson has said he may not have become David Cameron's communications director if he had revealed his knowledge of phone-hacking.
The ex-editor became the Conservative Party's communications director in 2007 and then worked inside No 10 from 2010.
The hacking trial heard how a senior reporter had told Mr Coulson about a hacked voicemail from former Home Secretary David Blunkett in 2004.
He denies the charges against him.
Downing Street
The trial heard how Mr Coulson had been made aware of the voicemail, which revealed Mr Blunkett declaring his love for Spectator publisher Kimberly Quinn, by chief reporter Neville Thurlbeck in 2004, while he was still editor of the News of the World.
The newspaper later published stories about Mr Blunkett's affair.
Andrew Edis QC, cross-examining Mr Coulson for a third day, put it to him that "if what you had done in relation to Mr Blunkett became public" he would not have been able to keep his job in Downing Street.
Mr Coulson replied: "I cannot say for sure, but it may well have meant I did not get the job."
The former editor became director of communications for the Conservatives after he resigned from the News of the World in 2007, following the conviction of royal editor Clive Goodman and private detective Glenn Mulcaire for hacking.
He later resigned from his job in Downing Street in January 2011, after allegations surrounding his former newspaper and phone-hacking resurfaced.
When he stepped down, Mr Coulson said the row over phone-hacking had stopping him giving the "110%" he needed to do the job.
Mr Coulson, 46, of Charing, Kent, denies conspiring to hack phones and conspiring to commit misconduct in a public office.
Phone bills
Earlier he was asked about an email sent to him by a former News of the World reporter claiming, Prince Harry had been called 60 times in one month by then girlfriend Chelsy Davey.
Giving evidence at the Old Bailey, Mr Coulson was asked about an email, which was sent to him by the News of the World's then royal editor, Mr Goodman, in October 2005, that claimed Prince Harry had received the calls while he was at the Royal Military Academy Sandhurst in 2005.
Mr Coulson told the hacking trial there had been "confusion" around data protection laws at that time.
The court heard how the email claimed Ms Davey had been "driving Harry nuts" and added that "we have been having a very quiet look at this independently".
Prosecutor Andrew Edis QC said the email suggested Mr Goodman had "access to private phone records relating to Chelsy".
Mr Coulson admitted he did not "apply" his mind to the email and said his knowledge of the Data Protection Act while he was editor was "not what it should have been".
He told the jury "there were areas about data protection that I should have been clearer on".
Harry's homework
Asked about the practice of getting the private information from phone bills, Mr Coulson said: "I understood it in broad terms, but I did not know how it was done, who did it or how often."
He told the jury the word phone "traffic" - or getting information by examining phone bills - had been used at the newspaper, and told the jury how he had understood the phrase but had not known how the practice was done.
"I did not apply my mind enough to that particular area," he said.
He was also asked about a voicemail transcript found on Mr Goodman's computer, in which Prince Harry had asked an aide for help with homework on the Iranian embassy siege.
Earlier in the trial, Mr Goodman had told the court how he had shown Mr Coulson the transcript of the message, left by Prince Harry on his private secretary's mobile phone in December 2005.
Mr Goodman told the trial he had made the transcript after convicted hacker Glenn Mulcaire alerted him to the message.
A story appeared in the now defunct tabloid later that month under the headline: "Harry's aide helps out on Sandhurst exams".
The Old Bailey on Tuesday heard about an email exchange between Mr Coulson and Mr Goodman about the story, in which the former editor asked if the former royal reporter had "stood" the story up.
Mr Goodman replied: "As we know it's 100% fact."
However, Mr Coulson denied the email exchange showed he had known about the hacked voicemail, saying that the "we" reference was "not to my mind me and Clive, it's the newspaper".
In a further exchange in court, Mr Edis put it that there had been "an awful lot of phone hacking going on at this point" at the News of the World, to which Mr Coulson replied: "I know that now."
"A number of people were doing it, yes," he added.
Mr Coulson is one of seven defendants on trial, who all deny the charges against them.
The trial continues.