Max Clifford case 'proves Operation Yewtree no witch-hunt'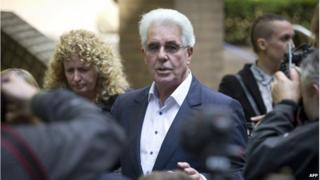 A lawyer representing victims of sex offences has said the conviction of Max Clifford proves Operation Yewtree is not a "celebrity witch-hunt".
On Monday publicist Clifford was found guilty of eight indecent assaults on women and girls as young as 15.
Liz Dux, who represents over 150 complainants in the Yewtree inquiry, said the conviction would give others "confidence to come forward".
And she said Clifford's conviction had "nothing to do with his status".
Operation Yewtree is a national police investigation which was prompted by sex abuse claims against the late DJ and TV presenter Jimmy Savile.
Clifford was arrested under a strand of the investigation concentrating on accusations not directly connected to Savile.
'Confidence' to report
Ms Dux told BBC Radio 5 live that Clifford's conviction was "very significant".
"Firstly it shows that Operation Yewtree is not just about a celebrity witch-hunt," she said.
"Secondly, it's vital to give confidence to other victims that a conviction can be achieved so many years after an event without DNA or other types of scientific corroboratory evidence."
She said it was right that people accused of sexual offences could be publicly named, as it could give other victims the "confidence to come forward".
"It is more important that suspects like Clifford, who has been found guilty of serious sexual offences, are rightly tried for them and that other people come forward than, I'm afraid, protecting their names."
The officer in charge of Yewtree, meanwhile, has spoken about the operation's first conviction.
Det Ch Supt Keith Niven, appearing before the Home Affairs Committee to discuss female genital mutilation, was asked about the verdict by chairman Keith Vaz.
"I am pleased for the victims, that they've finally seen justice - and rightfully so," he said.
'Say nothing'
Clifford, 71, from Surrey, was convicted at Southwark Crown Court for offences which took place over nearly 20 years.
He was cleared of two counts of indecent assault, while the jury failed to reach a verdict on one count of the same offence.
Releasing him on bail to be sentenced on Friday, Judge Anthony Leonard QC warned him the fact he was granted bail was no indication of the sentence that would be passed.
Outside court Clifford said: "I have been told by my lawyers to say nothing at all."
His clients included Simon Cowell, but it is understood Mr Cowell is no longer working with Clifford following his conviction.
During the trial, victims said Clifford promised to help their careers and introduce them to celebrities in exchange for sexual favours.
The assaults he was convicted of included trying to pin down one woman, then 19, on a sofa in his London office.
Another of his victims was abused from the age of 15 after she met Clifford while on holiday with her family in Spain.
After the trial she told the BBC Clifford still made her "shudder".
'Tricky character'
Speaking outside the court on Monday, the police and Crown Prosecution Service said the Clifford case showed victims of sexual offences would be "listened to".
The CPS said it would consider its position on the verdict the jury was unable to come to a decision on.
Media commentator Roy Greenslade, former editor of the Daily Mirror and assistant editor of the Sun, said he was "shocked" by Clifford's arrest and subsequent conviction.
"I didn't know anything about his private life, I only dealt with him at the level of business," he said.
"I knew he was a tricky character because he was tricky over negotiations.
"He was a brilliant negotiator, mainly because he'd got this narrow red-top market and he could play one paper off against another."