Sir Cyril Smith abuse 'cover-up' claims probed by police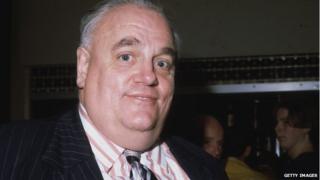 Police are examining whether there is evidence of a criminal cover-up over claims of sexual abuse at a school linked to the late MP Sir Cyril Smith.
The leader of Rochdale Council and Greater Manchester's chief constable are due to give an update on the claims over Knowl View school in Rochdale.
Officers are already investigating the abuse allegations and the council is set to widen its own inquiry.
Sir Cyril's family has said he always denied such accusations.
The development comes after police launched an investigation into allegations that former Liberal MP Sir Cyril, who died in 2010 aged 82, sexually abused boys at Knowl View residential school. The school closed in 1992.
Officers are also looking into claims he abused boys at the privately run Cambridge House children's care home, which closed in 1965.
However, the BBC understands that Greater Manchester Police are now reviewing whether there is evidence of a cover-up at Rochdale Council, which was one of the local authorities that ran the Knowl View school.
Police are examining a book written by the Labour MP Simon Danczuk, as well as other sources as part of their inquiries.
The BBC has also learned that Rochdale Council is to widen its own QC-led inquiry into the role played by council members and council staff in relation to Knowl View.
Rochdale Council was approached by the BBC today but declined to comment.
Allegations about Sir Cyril's conduct were first published in 1979 and also been made in a new book by the current Labour MP for Rochdale, Mr Danczuk.
He claimed Sir Cyril used his position of power to sexually abuse young boys and then escape prosecution.
Mr Danczuk previously said he asked police to re-examine the case after "a number of victims came to see me and raised concerns".
An independent review into the way Knowl View was run is due to report to Rochdale Council next month.
Sir Cyril's family have said he always denied such accusations made against him when he was alive and said they were saddened that allegations were now being made when he could no longer defend himself.
The Smith family said it would continue to co-operate with any further investigations.