A change of tack on Syria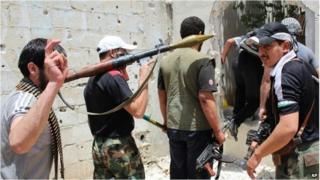 Just two months ago the message on Syria was very simple.
The security minister James Brokenshire said in quite clear terms that Syria had become the "jihadi destination of choice".
The Crown Prosecution Service warned that anyone who joined the fight to topple Syrian President Assad risked arrest and charges under terrorism laws.
The result is that so far this year almost 40 people have been arrested - almost double the total for the whole of 2013. Five prosecutions will soon come to trial where defendants face allegations of Syria-linked terrorism.
All that security apparatus is still in place.
But today the tone of the message from the top dramatically changed.
'Innocent'
The headline now is that the police want help from Muslim women to prevent their sons going overseas to a tragic death in a foreign war.
So why the change? Quite simply, until now there has been a complete disconnect between the Syria narrative coming out of government and the conversation taking place in Muslim communities.
Inside Muslim communities, there is a lot of genuine pain and anger over Syria, driven by global notions of brotherhood with their co-religionists. You do not have to look far to find people who regard fighting to free the Syrians as a legitimate, noble and moral jihad.
For these people, Syria is like Bosnia 20 years ago - a conflict of moral necessity to protect the innocent.
The flow of British fighters to Bosnia - and then Chechnya - was assisted by a very early form of social media in which Brits with experience of the battlefield produced videos and tapes of their experiences.
Today's Syrian jihadists are posting to Twitter and elsewhere, encouraging their brothers back home to join them.
But the difference between these conflicts is simple: al-Qaeda.
The Syrian opposition is split and the country has been flooded by foreign jihadist fighters whose organisations are aligned to al-Qaeda.
Extremism
So the authorities fear blow-back. Those who go to fight will be radicalised, battle-hardened and could ultimately pose a threat to the UK.
Police aren't giving up on the arrest-and-charge strategy - and the Home Secretary has controversial powers to seize passports or even strip someone of British citizenship.
But senior officers hope that if they appeal directly to women, they can challenge the pro-jihad narrative where it is found.
They want women who are worried about their sons to contact local officials who work in preventing extremism - teams who, in theory, will be able to intervene.
This is very difficult work for a number of reasons. Firstly, many families won't know their sons have gone until it is too late.
Last weekend's death of a Brighton teenager, Abdullah Deghayes is a case in point.
Nobody in his family knew he and his brothers were fighting until it was too late.
His aunt, Amani Deghayes, has told the BBC how the family tried in vain to bring Abdullah and his two brothers home. The two teenagers - Abdullah's brother is 16 - stole their own passports from their mother. The older brother said before he left that he was going to deliver aid.
Abdullah's father flew to Turkey to try in vain to persuade his sons to return. Women in the family bombarded the brothers with messages pleading with them to think again.
Mrs Deghayes said Abdullah's mother was now distraught.
"She feels she cannot do anything," said Mrs Deghayes. "She is desperate and wants to go and speak to them. It is very hard to accept that the three of them have gone and one of them is dead."
Could this initiative have made any difference for him?
"I don't want to be negative - it is nice that the police are trying something," she said.
"But they [the young men] don't really listen, what can you do? It is really hard to accept that you cannot control your children to that level."
And she said that previous tough messages from the government had not helped.
"Criminalising them means they are trapped there," she said. "One of the excuses for not coming back was that he would be imprisoned."
So the second major problem this initiative faces is trust.
DAC Helen Ball has been at pains to point out that families can talk in confidence to local preventing-extremism teams. The problem is that some people won't believe that.
Cage, a campaign group that has represented Muslims who it says are victims of the war on terror, says that the national campaign to target women will be perceived as a request to spy on their sons.
The reality is that it will be very hard to ever establish whether this campaign is successful because it will be impossible to count those who change their mind. Just two months ago the message on Syria was very simple.