Police make Syria plea to UK Muslim women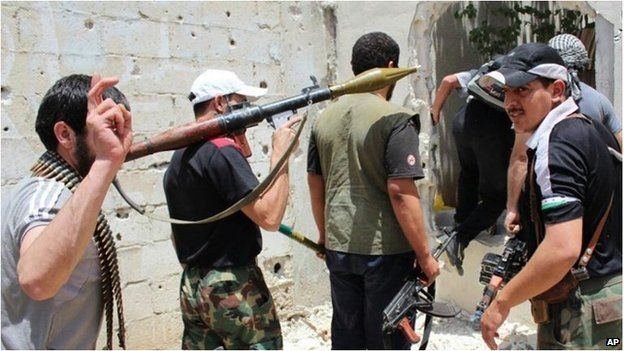 British counter-terrorism police chiefs are making an unprecedented appeal to Muslim women to persuade their relatives not to go to Syria to fight.
The national campaign for women to intervene follows a string of deaths of UK men who joined Syria's civil war against President Assad's regime.
Co-ordinated events are being held in London, Birmingham and Manchester.
Critics and campaigners questioned whether the police were trusted enough to get their message across.
Security chiefs think hundreds of people have travelled from the UK to fight in Syria, some of whom have returned.
Forty people have been arrested for alleged Syria-related offences during the first three months of this year - almost double the number held during the whole of 2013, police said.
And reports suggest up to 20 men from Britain have died in the conflict.
Recent deaths have included Crawley father-of-three Abdul Waheed Majeed - who became the first British suicide bomber in the war - and a teenager from Brighton.
Prime Minister David Cameron said: "We are very concerned as a government and as a country about the threat of terrorism coming out of Syria. And so what we are doing is trying to prevent people from travelling there."
He urged people to talk to the authorities if they knew someone who was considering going there.
The UK was helping the Syrian people through foreign aid, Mr Cameron added.
"But what we don't want to see is people from the UK going to fight, going to get radicalised, potentially coming back here and threatening others.
"That's a major risk to the UK, one we take extremely seriously - and everyone can help us stop it from happening."
Events in London, Manchester and Birmingham on Thursday brought together counter-terrorism police, officials who work on preventing extremism, and women from community groups in an effort to urge people to dissuade would-be jihadists.
The new strategy will see leaflets - to be handed out at ports - spell out the potentially fatal consequences of going to the war-torn country.
Speaking at the launch of the project, Deputy Assistant Commissioner Helen Ball, national co-ordinator for counter-terrorism at the Metropolitan Police, said she wanted women to lead attempts "to challenge the lure of Syria" and help to reduce the risk that young men going there would return radicalised.
She said: "I understand that some people have a really strong belief that they must go. I understand that. My concern is that they will arrive as a stranger and have no idea who is aligned to whom, and they will end up being preyed upon by terrorist groups."
DAC Ball said that if families approached local agencies for help because they were concerned about the views of their children, the details would not be passed to MI5.
Earlier, she told BBC Radio 4's Today programme that call-handlers on the police non-emergency 101 number had been briefed about how to handle Syria-related calls.
People raising concerns would be referred to "engagement officers" from the Prevent anti-terrorism project, who would meet them and offer help and support, she said.
They might then be contacted by a police officer, or someone from another agency within the community, she added.
BBC home affairs correspondent Dominic Casciani said the campaign was an unusual move by counter-terrorism and security chiefs, representing a "tacit admission" that the government's warnings on Syria were not getting through.
The police would face a confidence challenge as they attempted to push their initiative, he added.
Shiraz Maher, of the International Centre for the Study of Radicalisation, told the BBC the police were "the wrong people to be launching this type of campaign".
"That message should be coming out either from community groups or other elements of government," he said.
Mr Maher said using the police to lead the drive gave the impression it would end up "criminalising people".
He added the Home Office was responsible for people's lack of trust in police after its "very aggressive approach" towards Britons travelling to Syria.
The government, which has previously warned against travel to the country "under any circumstances", has said people who do so could have their passports or permission to remain in the UK taken away.
Police are also able to use disruptive techniques like detaining people at the airport until their flights have left.
Mussurut Zia, from the Muslim Women's Network UK, also said there was a "real mistrust" of the police in some communities.
She told the BBC it should be clear from the outset what support would be available to women and what they were expected to do.
Earlier this year, ministers and prosecutors warned that any involvement in fighting in Syria could breach terrorism laws and lead to a person's arrest back home. At least five terrorism-related prosecutions are currently awaiting trial.
The government has also urged Muslim communities to stop sending charity convoys to the region, asking them to work with major aid organisations with experience of war zones.
The Charity Commission is investigating at least two organisations amid fears that aid convoys have been used to funnel fighters and resources to jihadist rebels.
Speaking at the launch of the campaign, Michelle Russell, head of investigations at the commission, said there were about 500 UK charities offering aid to Syria and people should demonstrate "due diligence" in investigating them.
Labour MP Keith Vaz, chairman of the Commons Home Affairs Committee, said people might not be aware that their relatives were planning to join the fighting in Syria.
Families might also be reluctant to come forward, he said, questioning the role of the Met Police in the campaign.
"The Met is not not a counselling service, they are the first stage in the criminal enforcement process", he added.