Max Clifford jury gets majority direction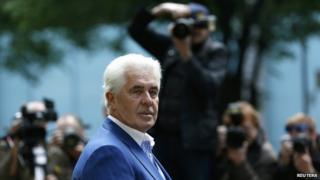 Jurors in the indecent assault trial of publicist Max Clifford have been told they can return a majority verdict.
Judge Anthony Leonard told the 10-person jury he would accept a verdict on which nine of them agreed.
Mr Clifford, 71, from Surrey, denies 11 counts of indecent assault against seven women and girls, aged 14 to 19, between 1966 and 1984.
The jury has been sent home after a fifth day of deliberations and will reconvene at 10:00 BST on Thursday.
The six men and four women were called back into Southwark Crown Court after lunch on Wednesday, where they informed the judge they had been unable to reach unanimous decisions on all of the counts.
The judge told them: "The time has now come in law where I am able to say that I can accept a verdict which is not the verdict of you all, but it must be a verdict on which at least nine of you are agreed."
Two jurors have previously been separately discharged from the case.
During the seven-week trial, prosecutors described Mr Clifford as a "master in the art of intimidation and manipulation" who used his celebrity connections to "bully and manipulate" girls and young women into sex acts.
He said the allegations were "a load of lies" and described his accusers as "fantasists".
Judge Leonard told the jurors in his summing up to ignore recent sex offence allegations against other high-profile figures.
He said the Jimmy Savile scandal had "spawned a number of inquiries into various people", adding: "All are irrelevant in your considerations of this case."