Phone-hacking trial: Coulson 'did not cover anything up'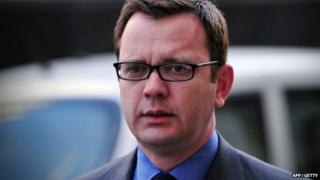 Ex-News of the World chief Andy Coulson has said he did not "cover anything up" following the arrest of the paper's royal editor Clive Goodman in 2006.
In his fifth day giving evidence, Mr Coulson told the phone-hacking trial he did not "volunteer information" to police after the arrest.
This was because he had not wanted to make the situation "worse", he said.
Mr Coulson denies conspiring to hack phones as well as conspiring to commit misconduct in a public office.
Asked by his lawyer Timothy Langdale QC if he thought he should have taken action in the days after the arrest of Mr Goodman and private investigator Glenn Mulcaire for phone hacking, Mr Coulson said: "I took the view that the police would go where the police would go.
"I did not set out to volunteer information as well. I did not want to make the situation worse, but I did not cover anything up."
'Readers' trust'
During his evidence, Mr Coulson also said he had been tasked to call Rupert Murdoch, the CEO of News Corporation which owned the NoW, to inform him of Mr Goodman's arrest.
He said: "I had a very brief conversation with him.
"He was concerned. He said the most valuable thing that a newspaper has is the trust of its readers and that stuck in my mind."
Mr Coulson, 46, was also asked if he had made any inquiries about the source of hacked voicemails, left by former Home Secretary David Blunkett, that had been played to him two years before Mr Goodman's arrest.
The voicemails, which were played to him by News of the World reporter Neville Thurlbeck, had been hacked and recorded by Mr Mulcaire, who was being paid more than £100,000 a year by the paper through his company Nine Consultancy.
"I asked if Nine [Consultancy] had been involved in the Blunkett story in any way, and the answer was no. I can't say who I specifically asked," Mr Coulson said.
Meanwhile, the former editor denied accusations he put pressure on Mr Goodman to plead guilty to phone hacking and to say he had been a "lone wolf".
Mr Coulson said he had acted under his duty of care to an employee following the then royal editor's arrest.
"It was quite shocking to have police on the floor," he told the Old Bailey.
"It was very shocking and I wanted to make sure that the right things were being done from the paper's perspective."
Mr Coulson phoned Mr Goodman two days after his arrest to tell him he had been suspended and that his legal fees would be paid.
'Bullying'
He told the court he did not tell Mr Goodman that he should plead guilty, nor did he tell him to plead not guilty.
He did tell Mr Goodman that he had "gone off the reservation", the court heard.
"I think it's an accurate description of how I felt Clive had behaved. I knew enough to know he had gone behind my back," Mr Coulson said.
But he denied describing Mr Goodman as a "lone wolf" or suggesting he could use his influence in the case.
"The anti-terrorist police had come on to the newsroom floor. I had a reporter charged. It was a major crisis for the paper," Mr Coulson told the court.
"I was feeling many things but I was not being influential, put it that way."
Mr Coulson, who went on to become the director of communications for Prime Minister David Cameron, also admitted that there was a bullying culture in newspapers throughout the 1980s and 1990s, but denied one existed during his tenure as editor of the News of the World.
The court heard a story about a man, who during his career worked for the paper, allegedly becoming so aggressive that he provoked a colleague into threatening him with a replica gun.
But Mr Coulson denied all knowledge of the story and said: "I never saw any evidence of [that staff member] behaving in a way I would consider bullying."
Mr Coulson resigned as News of the World editor in 2007. He told the court he made the decision to step down because he was the boss and "ultimately responsible".
He is one of seven defendants in the hacking trial who all deny the charges against them.
The trial continues.