Former Bank and MI5 heads join Order of the Garter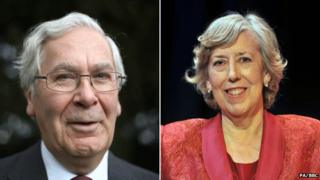 The former heads of the Bank of England and MI5 have been appointed to the Order of the Garter by the Queen, Buckingham Palace has announced.
Mervyn King, 66, was made Knight Companion and Eliza Manningham-Buller, 65, was appointed Lady Companion of the Most Noble Order of the Garter.
They fill two of three vacancies left by the deaths of Viscount Ridley, Baroness Thatcher and Lord Kingsdown.
It brings the number of Companions to 23 out of a maximum of 24.
Recipients of the honour are chosen because they have held public office, contributed to national life or served the sovereign personally.
Baron King of Lothbury was governor of the Bank of England from 2003 until 2013, chairing its Monetary Policy Committee.
He joined the Bank as chief economist and executive director in March 1991.
Born in Chesham Bois, Buckinghamshire, he was appointed a life peer by the Queen for "contributions to public service" and entered the House of Lords in July 2013 as a crossbencher.
Baroness Manningham-Buller was director general of the Security Service, known as MI5, from 2002 until her retirement in 2007. She joined MI5 in 1974.
Terrorism risk assessments were made public and the 7/7 bombings in London in 2005 happened during her tenure.
Born in Northampton, Lady Manningham-Buller became a crossbench life peer in April 2008.
She took the full title of Baroness Manningham-Buller of Northampton in the County of Northamptonshire.
New appointments to the Order of the Garter are announced on St George's Day, 23 April, and the ceremonies take place on Garter Day on the Monday of Royal Ascot week in June.
The Queen formally invests new Companions with the insignia of the Order of the Garter in the Throne Room at Windsor Castle.
Appointments are made by the monarch, who is sovereign of the Order, without the need to consult ministers.
Other members of the Order include the Duke of Cambridge, who became the 1,000th Knight of the Garter in 2008, and former prime minister Sir John Major.
Founded by Edward III in 1348, the Order of the Garter is the oldest and most important British order of chivalry.