Phone-hacking trial: Andy Coulson 'rubber-stamped' payment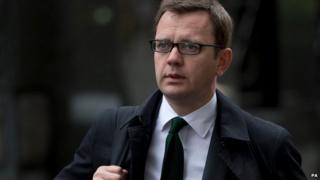 Ex-News of the World chief Andy Coulson has said he "rubber-stamped" a payment to a police officer despite being told it could result in criminal charges.
He told the phone-hacking trial he "failed to address" properly a request from former royal editor Clive Goodman for money for a royal phone directory.
Mr Coulson said Mr Goodman had been prone to exaggeration and he did not believe he was paying a police officer.
Mr Coulson denies conspiring to commit misconduct in a public office.
He also denies charges of conspiring to hack phones.
An email exchange between then editor Mr Coulson and Mr Goodman in 2003 revealed how the latter asked for authorisation for a payment for a "green book" of contacts for royal staff.
Mr Goodman said in the email he wanted to obtain the book for a fee of £1,000 from a royal police officer.
'Unnecessary drama'
The money had to be paid in cash, which Mr Coulson had to sign for.
The court heard how Mr Goodman warned his editor that getting caught making the payment would mean the police officer "could end up on criminal charges, as could we".
Mr Coulson said he did not remember the email, but having read back over it preparing for the trial, it reminded him of "what it was like on occasions to deal with Clive" and the "unnecessary drama" he created.
"I didn't believe that Clive Goodman was paying a policeman, I still don't believe that Clive Goodman paid a policeman," Mr Coulson told the Old Bailey.
"What I did was fail to address that properly, but I didn't because I didn't believe him and I rubber-stamped it."
Mr Coulson also denied allegations that he was played a voicemail left on the phone of future James Bond actor Daniel Craig by the actress Sienna Miller.
He was asked about claims earlier in the hacking trial by former reporter Dan Evans.
He rejected Evans' assertion that he had played the message to him in September 2005.
Giving evidence for a fourth day, Mr Coulson was asked about evidence given earlier in the trial by the ex-News of the World journalist.
Evans had told the trial that Mr Coulson knew about his hacking activities and had described a taped voicemail from Ms Miller to Mr Craig exposing their alleged affair as "brilliant".
Evans, who has admitted conspiracy to hack phones at the Sunday Mirror and the News of the World, said the message led to stories about Ms Miller and Mr Craig, who starred in his first James Bond film a year later.
Timothy Langdale QC, defending Mr Coulson, said: "Dan Evans told the court that in September 2005 there was an occasion when he played to you a voicemail message left on Daniel Craig's telephone by Sienna Miller. Did any such incident take place?"
Mr Coulson replied: "No, it did not."
The former editor said he was at the Labour party conference in Brighton the day the message was said to have been played to him.
Ms Miller earlier told the trial that Mr Craig was a close friend with whom she had been speaking during a difficult period in her relationship with the actor Jude Law.
'Stuff with phones'
Mr Coulson said the News of the World's front page exclusive about Ms Miller and Mr Craig's alleged affair had also come in the same week he was overseeing a serialisation of British boxer Frank Bruno's biography.
"It was a long, complicated book serialisation. I remember the publishers insisted on making changes quite late in the day, and I think the lawyers were involved as well.
"It took up a lot of my time," he said.
Mr Coulson, who became Downing Street director of communications after leaving the newspaper, told the trial he believed information about the alleged affair may have come from Ms Miller's mother.
"People in and around celebrities - their relatives, their agents, their PRs - will talk to newspapers," he added.
"It certainly happened during my career as a reporter and my career as an editor."
He was also asked about further claims made by Evans who told the trial that at a meeting in October 2004, before he joined the News of the World, he told Mr Coulson he could deliver stories using "stuff with phones".
Asked if the subject of phone hacking came up in any way at all during the meeting, Mr Coulson said: "Not that I remember."
Mr Coulson is one of seven defendants in the hacking trial who all deny the charges against them.
The trial continues.