Easter travel: Millions return after holiday break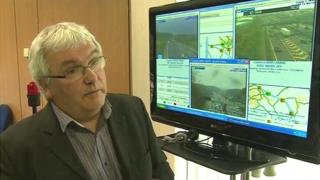 Millions of drivers are taking to Britain's roads as travellers return home at the end of the Easter holiday.
Among the traffic hotspots on Monday afternoon were the M5 northbound in Somerset, A11 southbound at Thetford, M4 eastbound past Cardiff and A303 eastbound in the Stonehenge area.
Some 16 million cars had been estimated to be used over the holiday weekend.
This Easter was expected to be the one of the busiest on the roads in recent years, because of the mild weather.
Traffic information company Trafficmaster said that with many schools returning on Tuesday lots of people were heading back.
Terry Doyle, from Trafficmaster, said: "It's going to remain busy, particularly into the evening as people still travel.
"They've set off this afternoon, we've seen quite fine weather, they've probably stayed a little later at their destinations.
"Travelling tonight will still be quite busy, up to 8pm or 9pm. For example, on Thursday the M1 motorway through the Midlands was very busy indeed, so people do travel late into the night now."
'Lots of sunshine'
BBC weather presenter Matt Taylor said Easter Monday would remain mostly warm and dry.
He said: "Fine conditions out there for many, lots of sunshine around too, and that sunshine will continue for many through the rest of today."
He said temperatures would probably get into the high teens or low twenties centigrade in many areas, away from eastern Britain.
Some intense showers could affect the M4, M5 and M3 in southern England and south Wales into the late afternoon and evening.
Network Rail said engineering work would take place at more than 3,000 locations over the Easter weekend, with almost 8km of track renewals taking place.
Stations affected include London Bridge, Paddington and Kings Cross in London, and Southampton Central.
But rail industry body the Railway Delivery Group said 20% fewer bus replacement services would be needed compared with last Easter.
On London Underground, parts of the Bakerloo, District, Jubilee and Piccadilly lines, as well as London Overground, have been shut.
A survey by Visit England suggested that 3.4 million Britons planned to go away within the UK over Easter, with 1.6 million heading abroad.