High Court judge Sir Paul Coleridge calls for end to family breakdown 'misery'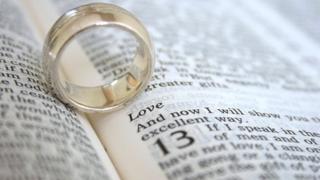 More must be done to stop the "misery" of family breakdowns, according to a senior judge previously reprimanded for voicing his views on marriage.
Sir Paul Coleridge, who spoke as he retired from the High Court's family division, called for "the tide" of family breakdown to be stemmed.
Sir Paul said judges who presided over family courts had "unique experience" and urged them to speak out.
Last year, he received a formal warning for voicing his views in newspapers.
Sir Paul was disciplined by the Judicial Conduct and Investigations Office (JCIO) in December over comments in the Times and an article he had written for the Telegraph
In the interview in 2012, he said the government had expended too much effort on the issue of gay marriage, while in the Telegraph article he wrote that marriage "brings clarity and removes ambiguity" from relationships.
The JCIO said the interview and article amounted to "judicial misconduct".
However, in his retirement speech to fellow judges and lawyers he said judges who presided over family courts "should not be afraid to speak out".
He said family court judges have a "unique contribution to make".
"I know how consoling and good a good marriage can be and how it gets better over the years and also how ghastly family breakdown can be.
"Something can and should be done to stem the tide of family breakdown," he said, during the farewell at the Royal Courts of Justice in London.
He said he wanted to "give something back" and went on: "I cannot sit here day after day watching misery and doing nothing."
Sir Paul previously announced he was stepping down from being a judge early because of opposition to his personal views.
He is the founder and chairman of the Marriage Foundation, a think tank which aims to be a "national champion for marriage".