Haroon Aswat extradition decision postponed until June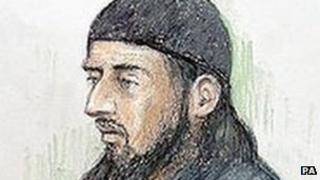 Home Secretary Theresa May has been given two months to seek assurances from the US about how a terror suspect will be treated if he is extradited.
Briton Haroon Aswat is accused by the US of conspiring with radical cleric Abu Hamza to establish a terrorist training camp in Oregon.
The European Court of Human Rights blocked his extradition due to fears about his mental health.
The High Court said the US had until 13 June to make assurances to the UK.
If no assurances were received in that time, extradition would be blocked, the judges said.
US authorities allege Mr Aswat, 39, was involved in a plot to establish a terrorist training camp at Bly, in Oregon, with Abu Hamza, who was sent for trial in the US in 2012.
Yorkshire-born Mr Aswat, who denies any terrorism involvement, was arrested in 2005 by UK authorities following a request from the US for his extradition.
'Wholesale neglect'
However, he was transferred from prison to Broadmoor special hospital in 2008 because he was suffering from paranoid schizophrenia,
Last year, the European Court blocked Mr Aswat's extradition to the US, saying his likely detention in a top security jail could cause his mental health to deteriorate.
The court said his mental and physical health could significantly worsen in the "more hostile" environment of a "supermax" prison - most likely ADX Florence in Colorado - where he would have no support from family or friends.
It said that extraditing Mr Aswat would breach his human rights, specifically Article 3 of the European Convention on Human Rights which prohibits inhuman or degrading treatment.
That ruling was upheld in September, last year, after a challenge from the UK government.
However, later that month the home secretary announced her decision not to withdraw the extradition order, despite the European Court ruling.
Her decision was then challenged at London's High Court by lawyers acting for Mr Aswat.
At a hearing on 1 and 2 April, lawyers representing the home secretary told the High Court there was new information showing Mr Aswat could be lawfully sent to the US.
James Eadie QC pointed to a letter from the US Department of Justice, which stated that "if at any stage it became clear that Mr Aswat's mental condition was such that it could not be managed in ADX Florence, then he would be transferred from there to a more suitable mainstream facility."
'Assurances'
This letter had, Mr Eadie said, "filled the gaps which Strasbourg had identified".
He said if extradited, Mr Aswat would be accompanied on the flight by an "emergency medical technician" and would be given a "full mental health evaluation within 24 hours of his arrival".
However, Edward Fitzgerald QC, representing Mr Aswat, told the court there had been no assurance from the US that his client would be held in a hospital.
Mr Fitzgerald said there was a "wealth of evidence that schizophrenics do go to ADX Florence" and that there was "wholesale neglect" of them there.
Adjourning the case, Lord Thomas said there had been a failure by the home secretary to give "the kind of assurances envisaged in the judgment of the Strasbourg court".
The judges unanimously ruled that a final decision in the case should be postponed for 60 days so the US government could consider whether it wished to give the kind of assurances demanded by Strasbourg - or extradition would be blocked.