Max Clifford jury retires to consider verdicts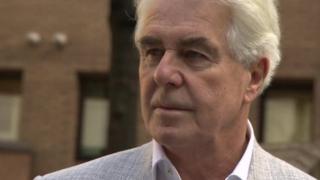 The jury in the case of publicist Max Clifford has retired to consider its verdicts.
Mr Clifford, 71, denies 11 counts of indecent assault relating to seven alleged victims aged from 14 to 19.
The accusations concern alleged offences between 1966 and 1984.
Jurors at Southwark Crown Court were told by Judge Anthony Leonard QC in his summing up to ignore recent sex offence allegations against other high-profile figures.
The judge has told the jury that the Jimmy Savile scandal "spawned a number of inquiries into various people", adding: "All are irrelevant in your considerations of this case."
He said they should also consider why the alleged victims, who were aged from 14 to 20 when they say the assaults took place, had not complained to police until after the Jimmy Savile scandal.
'Reach just verdicts'
Prosecutor Rosina Cottage QC has described Mr Clifford, from Hersham, Surrey, as a "master in the art of intimidation and manipulation" who portrayed himself "in different ways to different people".
But his barrister Richard Horwell QC has said the prosecution case is "fifth-rate fiction".
In his closing speech, Mr Horwell told the jury: "If he was this wicked predator, news would have spread through the industry at the speed of electricity."
Before retiring, the jury of six men and five women was reminded by the judge to take as much time as needed "to reach just verdicts".
The trial has been adjourned until Wednesday.