New scout activity badges unveiled by Scout Association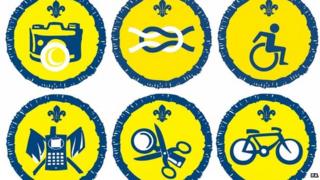 Nineteen new badges which recognise skills such as disability awareness and understanding the solar system have been unveiled by the Scout Association.
Geocaching - a modern take on orienteering, in which participants use GPS technology to find hidden treasure boxes - is among the other new badges.
Skills such as learning how to send text messages and emails are rewarded in a new communicator badge.
But the association said traditional scouting skills were also maintained.
The new badges follow a 10-month consultation with the association's 12,000 scouts.
Nine of the new badges are aimed at the Beaver Scouts - aged from six to eight years old - and cover camp craft, collecting, cycling, gardening, photography, sports, space and disability awareness.
The communicator badge is also aimed for this age group. To qualify, Beavers must spell their own name in Morse code, while also demonstrating knowledge of more modern communication systems such as text messaging and emails.
Four badges - backwoods cooking, fire safety, disability awareness and pioneer, which includes skills such as making your own rope and tying knots - are for cub scouts.
Fundraising and geocaching are available for scouts, while fundraising, naturalist, pioneer and survival skills are available for Explorer scouts, aged 14 to 18.
Chief Scout Bear Grylls said: "We're delighted to be launching a new range of badges that guarantee fun and adventure while encouraging scouts to develop a greater understanding of modern society and the contribution they can make to society.
"Throughout its 107-year history the scouting movement has continued to evolve - these new badges make sure we are able to keep offering activities that educate and enthuse young people in equal measure."
The consultation exercise identified the need to create new badges that allow younger scouts to develop a wider range of skills.
But traditional scouting skills are still available to those who want to hike or sleep out under the stars.
One badge is now available to scouts who clock up more than 200 nights away camping.