Nigel Evans says CPS should pick up £130,000 legal bill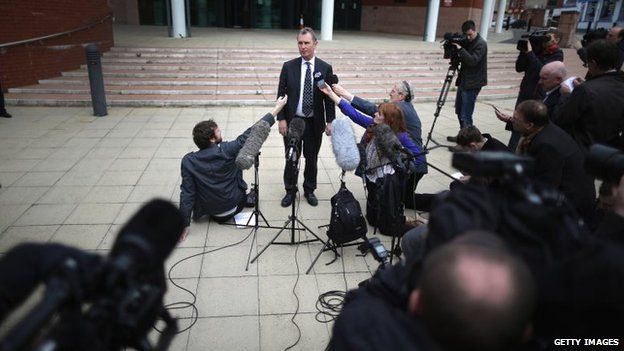 MP Nigel Evans, who was cleared of rape and sexual assault on Thursday, has said the Crown Prosecution Service should pay his £130,000 legal bill.
He called the case a "very public execution attempt", and said rules granting anonymity to alleged victims of sex crimes were unbalanced.
The CPS has said taking Mr Evans to court was the "right decision".
Mr Evans told the newspaper he had considered suicide in the "darkest moments" since allegations against him were made.
The MP for Ribble Valley said his £130,000 legal bill had taken up his entire life savings, adding: "Every penny is gone."
The case also cost him the £30,000-a-year extra salary he had received as deputy speaker.
People who were "dragged through the courts through no fault of their own" and then found not guilty should "get their legal fees back from the CPS budget", Mr Evans said.
"Maybe that will make them focus on whether a case is worth pursuing."
Mr Evans also hit out at the police, saying he had been "shocked" by their "zealotry" in pursuing the investigation.
And he questioned the way prosecutors handled high-profile sex offence cases that dated back many years - also criticising the use of "bundling" - where police build a case against an accused using a number of weaker allegations.
"We need to consider the issue of a statute of limitations and look at how other countries deal with this," he added.
The MP questioned the current system of anonymity for alleged victims of sexual offences, saying he felt "cheated" that his accusers would not be recognised in the street while he would - even though he had been cleared.
He said the system created a "new set of victims" when those accused were acquitted.
"This imbalance needs to addressed urgently," he said.
He says the plan had been for Eleanor Laing, the new deputy speaker, to step aside when he was cleared so he could be re-elected.
"But I don't want another contest," he told the newspaper.
"I enjoyed the role for three years but Eleanor is making a great fist of doing the job.
"For the rest of this Parliament I am going to return to the back benches and carry on what I did when I was elected."
On Friday, Director of Public Prosecutions Alison Saunders defended the decision to prosecute Mr Evans and said the CPS applied the "same test no matter who the offender or the victim is".
"We looked at all the evidence and decided there was a realistic prospect of conviction," she said.
And Lancashire Police has defended its "fair, professional and proportionate" handling of the case.
Det Supt Ian Critchley said the force had pursued Mr Evans in the same way it would anyone else.
Speaking on Sky News, deputy Labour leader Harriet Harman said Mr Evans had been through a "harrowing" experience but added that there should not be anonymity for those accused of sexual offences.
She added that the CPS acted "independently", saying: "People say they should never have taken this case in the first place. Our system is that the jury decides."
But Conservative MP Nadine Dorries said: "It's an absolute travesty what's happened to Nigel Evans."
She added that the CPS had been on a "fishing expedition" and that Mr Evans was "a good bloke".
Related Internet Links
The BBC is not responsible for the content of external sites.