Attorney General Dominic Grieve and DPP to discuss failed rape cases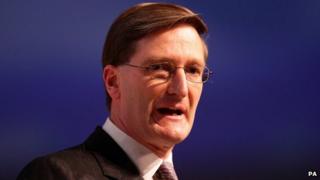 Attorney General Dominic Grieve is to discuss failed sexual assault and rape cases brought against high profile figures with the director of public prosecutions (DPP) Alison Saunders.
It follows criticism of prosecutors after actors Bill Roache and Michael Le Vell were cleared by juries.
Some Conservative MPs have also questioned the decision to charge Ribble Valley MP Nigel Evans.
Mr Evans was acquitted - but the DPP has defended the decision to prosecute.
The former Conservative deputy speaker of the House of Commons, was acquitted of nine sex abuse charges, including rape, at Preston Crown Court on Thursday.
The attorney general's office stressed Mr Grieve and the (DPP) hold meetings roughly every fortnight, and typically discuss major cases after the verdicts.
'Negative message'
A spokesman for the attorney general's office said: "The running of individual cases is a matter for the independent CPS [Crown Prosecution Service] and the DPP.
"However, as part of his role superintending the CPS, and as would be normal in high-profile cases such as these, the attorney general will discuss these cases with the DPP at their next regular meeting."
They are expected to meet after Easter.
BBC political correspondent Ross Hawkins said long standing protocol meant the attorney general did not talk to the DPP about cases once charges involving politicians have been brought until their conclusion.
Mr Roache was cleared of rape and indecent assault in February and Mr Le Vell was acquitted of a number of child sex abuse charges in September last year.
Prof Liz Kelly, director of the child and woman abuse studies unit in London, told the Guardian she feared the debate around Mr Evans's trial was sending an "extremely negative message to survivors of sexual violence".
"At this time of ongoing high-profile trials, political interference undermining work to improve prosecutions of sexual offences should desist," she said.
Critics of the CPS, including some Tory MPs, have said it must avoid bringing together a series of weak cases in an attempt to form a strong one.
Ms Saunders defended the decision to take the case against Nigel Evans to court.
She said the CPS was not on a mission to pursue famous people, but prosecuted every case in the same way.
She said she would look at the case to see if lessons could be learned - as was normal with all acquittals - but she rejected any widespread change to CPS procedures in such cases.
"I think we made the right decision in taking it before the court," Ms Saunders said.
"We looked at all the evidence and decided there was a realistic prospect of conviction. And what we have to remember is that juries apply a very different, much higher test which is, are they satisfied beyond all reasonable doubt?"
She insisted the CPS would continue to take difficult cases to court provided they satisfied its test.