Max Clifford accusations 'stuff of fiction', says lawyer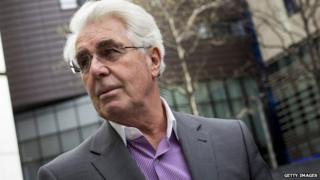 Claims that Max Clifford is a "sexual predator" are "the stuff of fiction", his barrister has told a court.
Delivering his closing speech at the publicist's trial, Richard Horwell QC said it would not have been possible to keep any such behaviour secret.
"If he was this wicked predator, news would have spread through the industry at the speed of electricity," he said.
Mr Clifford, 71, from Hersham, Surrey, denies 11 counts of indecent assault relating to seven alleged victims.
The accusations concern alleged offences between 1966 and 1984.
Mr Horwell told the jury at Southwark Crown Court in London: "Men do not suddenly change from being caring gentlemen to sexual predatory monsters and then back again.
"That is the stuff of fiction, not real life."
'Caring and honest'
Mr Clifford had no previous convictions, cautions, reprimands or warnings, he said.
"How does that fit with the sexual predator the prosecution say he is?" he said.
"Would not this sexual predator have been caught out once or twice in his life?
"Leopards don't change their spots we are often told and people do not change their character.
"If a man has a perverted sexual drive, if he is a paedophile, because that is what is alleged, that tendency is going to be with him throughout his life."
Mr Horwell said a succession of character witnesses had testified that Mr Clifford was a caring and honest man who gave his time and energy to charity work.
The trial continues.