Max Clifford is 'master in art of intimidation', says prosecution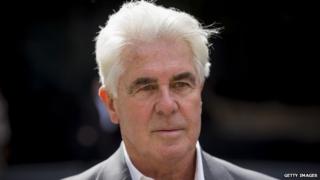 Max Clifford is a "risk taker" and a "master in the art of intimidation and manipulation", the prosecution has said in the closing speeches at his trial.
The publicist - who denies 11 counts of indecent assault - portrayed "himself in different ways to different people," Rosina Cottage QC told the jury at Southwark Crown Court.
Richard Horwell QC, defending, said the prosecution's case was speculation, dismissing it as "fifth-rate fiction".
The judge will sum up on Thursday.
'Young women'
In her final words to the jury, prosecutor Rosina Cottage QC said Mr Clifford had "packaged himself" as "loving father" for many years.
She said: "He has managed to portray himself in different ways to different people.
"But don't be fooled, in every case his actions were sudden, unexpected and, frankly, in some cases so bizarre you may think these young women and girls have no idea how to react.
"He admitted the power he obtained in the press in the 1990s meant he would be able to kill any story about him."
'Fifth-rate fiction'
But defending, Richard Horwell QC cast doubt as to the authenticity of some of the witnesses' accounts by pointing out some of the inconsistencies in their descriptions of the PR guru's penis size.
He made it clear that Mr Clifford's "sex life and adulterous relationships" were not on trial, and he described the prosecution's case as "fifth-rate fiction", likening it to the romantic stories published by Mills & Boon.
He said the trial had been "haunted by the spectre" of the former BBC Radio 1 DJ Jimmy Savile, who died before hundreds of sexual abuse allegations against him came to light.
He said: "The Jimmy Savile effect cannot be ignored. Why are wealthy celebrities the subject of these accusations?"
Mr Clifford denies all the charges against him which relate to seven alleged victims, aged from 14 to 20 between 1966 and 1984.