Theresa May defeated over asylum seeker benefits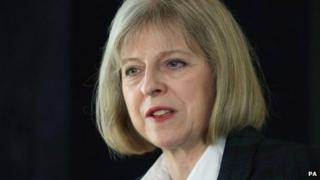 The home secretary has lost a High Court battle over the financial support given to the poorest asylum seekers while their claims are being processed.
A coalition led by Refugee Action said it was unacceptable that the amount of money - about £36 a week for a single adult - had been frozen since 2011.
The court agreed, ruling that Theresa May had not acted "rationally".
The Home Office said it was "disappointed" at the decision and was considering launching an appeal.
The court ordered Mrs May to reach a new decision on the level of support by 9 August.
'Cripplingly low'
Campaigners compared the freeze on payments to destitute asylum seekers with income support, which has been increased in line with living costs each year since 2011.
Income support is currently £57.35 a week for a single person aged 16-24 without dependants, and £72.40 a week for those aged 25 or over.
Refugee Action said the "cripplingly low level of financial support" for asylum seekers had affected more than 23,000 people and left half of those it had spoken to without enough money to feed themselves or their families.
Mr Justice Popplewell said the decision to freeze rates for a third year in a row in 2013-14 amounted to "a reduction in real terms from what was regarded in 2007 as the bare minimum level necessary to avoid destitution".
He ruled the decision legally flawed, adding: "In my judgment, the information used by the Secretary of State to set the rate of asylum support was simply insufficient to reach a rational decision to freeze rates."
Torture survivors
Refugee Action chief executive Dave Garratt said: "Every day at Refugee Action we see the human impact of this unlawful Home Office policy which robs individuals and families of their dignity.
"While we are hugely heartened by today's judgment, we urgently need to see the Home Office acting on this ground-breaking ruling by setting up a transparent and robust enquiry into the way asylum support rates are calculated."
Freedom from Torture chief executive Keith Best said "decent financial support" was "vital to torture survivors being able to rebuild their lives in the UK".
A Home Office spokesman said: "We are disappointed with the court's judgement. We are looking at all options, including appealing."
The Home Office pointed out that the judgement did not say payments were too low, but rather that there were errors in the way current levels had been set.
Increasing them could encourage spurious asylum claims which could clog up the system and make it harder for those with a genuine fear of persecution from receiving vital support, it added.