Forces widows face 'moral penalty' of lost pensions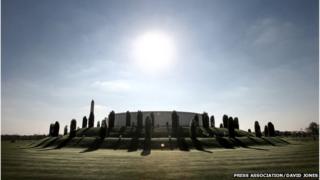 Campaigners have called on ministers to change rules that mean 80 service widows a year have their pensions taken away.
Currently, if a member of the armed forces dies while off duty, the Ministry of Defence makes their widow give up their spouse's pension if they remarry or cohabit.
The rule has been in place since 1973.
BBC News website readers have been sharing their views on the issue.
Patricia Crabtree, Sleaford, Lincolnshire
My first husband was Warrant Officer GB Wallis. He served in the RAF for over 30 years and died in April 1992.
I was left with four teenage sons to bring up and initially I was awarded the basic RAF pension.
I spoke to a member of the British Legion telling them that my husband had died as a result of a misdiagnosis of cancer when he left the service.
He took premature voluntary release after returning home.
The British Legion took up my case with the MoD and I was subsequently awarded a war widow's pension.
I remarried in 1999 and had not realised that I would lose my pension. So when the MoD contacted me to return the pension payments made since my remarriage it caused me and my new husband some financial stress.
I now only get about £300 per month pension at the age of 71.
I think the changes would be one of the best things to happen.
They would be recognition of all the work that ex-servicemen and their wives do. Having a spouse in the forces means a huge amount of upheaval.
My husband gave over 30 years of his life to service for his country and it seems rather bad that in return all his family gets is £300 per month.
Malcolm Halliwell, Ramsey, Cambridgeshire
I served 40 years in the RAF and, until I read this article, I did not know that my wife could end up in this situation were anything to happen to me.
I feel genuinely aggrieved that one of the real benefits of my lifetime of service - my pension - does not have the survivor benefits that I had expected.
The fact that my wife might have to face the choice between losing her financial independence or loneliness in later life is shocking.
I left the RAF in 2008 and had served since I was a boy apprentice in 1969, so I'd built up the maximum possible pension entitlement.
I always believed that there would be something to look after my wife when I die.
What a terrible choice to have to make, between money or a new loving relationship - it is mean and archaic of the MoD.
It is a moral penalty and it needs to be addressed.
I hope that the government listens to this lobby.
Amanda Oliver, Worcester
Both my husband and I served in the British Army, he for 26 years. I left after nine years to start a new career and have children.
My husband retired in about 1995 after being commissioned from the ranks in a very successful career.
In 2001 he died at the age of 49 from a brain tumour, just six months after diagnosis. Our two daughters were six and 11 and I was just 40 years old.
Fortunately we received a pension so I was able to leave a very senior position at work and take some time out to dedicate to the children.
Two years later I met my now husband of 10 years and, after a year of dating, we moved in together.
This meant that I lost both my army and government pension, and my new husband had to take on the brunt of our finances while I looked for a new job and returned to the workplace.
He had a family from a previous relationship, so until I could find work he was supporting his family and mine.
During the six months of my husband's terminal illness, one thing that helped through the madness was the knowledge that the 26 years of paying into his pension would ensure our financial security once he had died.
How unfair to pay into a scheme for 26 years and then have to make a choice between a secure financial future or a life as a complete family in a loving relationship.
When I informed the pension personnel of my changed state, i.e. cohabiting, he said that he hoped it was true love as I was giving up a lot of money, around £1,500 to £2,000 per month.
I said then that I was sure I was making the right choice, but why have that choice forced on me?
Interviews by Amber Dawson