Murder marine Al Blackman no risk to society, says wife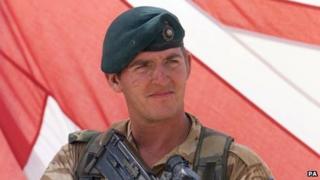 A Royal Marine jailed for life for murdering an injured Afghan fighter is "no risk to society" and should be released, his wife has told the BBC.
"It's very obvious he is in the wrong place," Claire Blackman said.
Her husband had been at the end of "a very long, very exhausting tour" and was in charge of a group of men in "a really, really dangerous situation" when he shot the insurgent, she added.
Sgt Al Blackman's appeal will be heard at the High Court on Thursday.
Blackman, 39, of Plymouth-based 42 Commando, was told he would serve at least 10 years in jail for murdering the injured insurgent in 2011.
He was five months into a six-month tour when he shot the Afghan - who had been seriously injured in an attack by an Apache helicopter - in the chest at close range with a 9mm pistol.
'So stressful'
Mrs Blackman, 42, from Taunton, Somerset, told the BBC: "He does bitterly regret it but hindsight is a wonderful thing.
"There were so many other factors embroiled in that decision. He was in charge of all of those other lads who were in a really, really dangerous situation.
"They didn't know who else was around on the ground. They had an insurgent who had clearly had explosives on him in their midst.
"It was the end of a very long, very exhausting tour that must have just been so stressful with the amount of engagements they were embroiled in."
She said she hoped his conviction would be overturned by Lord Chief Justice Lord Thomas and two other senior judges, but recognised "it would be a very difficult decision" to make.
"There's an awful lot of politics, international politics, tied up with this case, and I absolutely understand that, but for me, at the end of the day, this is about one man and his life, and for something not to happen because of politics just seems wrong.
"Bottom line, Al is no risk to society."
'Fantastic' support
Sentencing Blackman in December, Judge Advocate General Jeff Blackett told him he had disgraced the name of the British armed services and video of the shooting showed he had not been "under any immediate threat" when he fired.
In fixing the minimum jail term, the judge said the court took into account the effect of the arduous six-month tour upon Blackman, but said "thousands of other service personnel have experienced the same or similar stresses" and had not acted in the same way.
Marketing executive Mrs Blackman was interviewed for a BBC One documentary by filmmaker Chris Terrill.
She said she hoped that at worst, her husband could be transferred to an open prison closer to home, and at best, released altogether.
The support the family had received from the Royal Marines had been "fantastic", she added.
Marine 'A': Criminal Or Casualty Of War? will air on BBC One on Wednesday 9 April at 10:35 BST.