Call to change forces widows' pension rules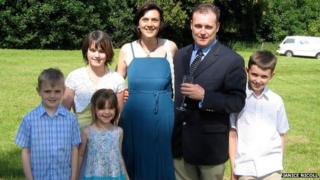 Campaigners have called on ministers to change rules that mean forces widows have to give up their spouse's pension if they remarry or cohabit.
In a letter to the Times signed by former senior defence figures, they said this would cost £250,000 a year out of a forces pension bill of £5bn.
The principle applies if the service member died off duty.
The Ministry of Defence said it was not planning to change the rules and must ensure the scheme remained affordable.
The situation means up to 80 service widows a year have their pensions taken away.
Janice Nicoll, the widow of Royal Navy officer Lt Cdr Andrew Nicoll, is one of those who has made the painful decision that she cannot afford to remarry.
Janice was 18 and Andrew 21 when they married in 1991, and she gave up her job to support his military career.
She asked only once what might happen to the family if he died. That was just before he left to serve on Operation Telic, the Iraq campaign of 2003.
He said he was sure his service pension would support the family should anything happen.
But Andrew was only partly right. Because he died in a motorbike accident in 2006 at the age of just 35 while he was not on duty, the pension his family receives is not guaranteed for life.
'In limbo'
Janice was left with four young children to bring up on her own.
As a result of a 1975 Armed Forces pension scheme, she had unwittingly become one of those who must still decide whether to marry, or keep a pension that her family depends on.
"At the time [he died], you don't question that. In my head, at that stage, I was never going to get married again," she said.
"But now, I am with somebody, and have been for five years. We had a hotel booked for the wedding, but he looked into the finances and said it was not really possible right now, not with four young children. So I see him once a week, and I feel as if I am in limbo."
Although Janice works part time, she relies on the pension to pay the mortgage.
"It's not just about the money, but the fact that however he died, my husband still served his country for many years. He served on nuclear submarines, and put his life on the line."
'Shocking'
Malcolm Halliwell, from Ramsey in Cambridgeshire, served in the RAF for 40 years.
"I feel genuinely aggrieved that one of the real benefits of my lifetime of service - my pension - does not have the survivor benefits that I had expected," he told the BBC.
"The fact that my wife might have to face the choice between losing her financial independence or loneliness is shocking."
Amanda Oliver, from Worcester, and her husband both served in the Army, but he died from a brain tumour at the age of 49, leaving her with two daughters aged six and 11.
"During the six months of my husband's terminal illness, one thing that helped through the madness was the knowledge that the 26 years of paying into his pension would ensure our financial security once he had died," she said.
"When I informed the pension personnel of my changed state, i.e. co-habiting, he said that he hoped it was true love as I was giving up a lot of money, around £1,500-£2,000 per month.
"I said then that I was sure I was making the right choice, but why have that choice forced on me?"
'Political leadership'
The Forces Pension Society said the new Armed Forces Pension Scheme, due for implementation in April 2015, provides a unique opportunity to simplify what it calls "an arcane, complex and unfair" system.
Its chairman, Maj Gen John Moore-Bick, said the forces were the only part of the public sector in which life had such turbulence, with many moves, which prevents any other pension building up within service families.
"So to seize widows' pension on cohabitation or remarriage we think is unfair, and certainly against the principles of the Armed Forces Covenant, which is that there should be no disadvantage accruing from service to the Armed Forces," he said.
"We are asking for political leadership now to sort this out before the next general election.
"It matters because those widows affected by the rules have a stark choice: between losing their pensions or staying alone for the rest of their lives."
The society said the average value of the pension taken from widows who remarry or cohabit was £2,876.
An MoD spokesman said: "If a member of our Armed Forces dies as a result of service, their widow will still receive their pension, even if they remarry or cohabit.
"All personnel serving in 2005 had the chance to opt for the new pension scheme introduced that year which amongst other things increased benefits for next of kin, but fewer than 10% chose to do so.
"It continues to be a long-standing fundamental principle, adopted by successive governments, that pensions should not be improved retrospectively for those who are no longer contributing members or for their dependants, to ensure that schemes remain manageable and affordable."