Police Federation chairman 'cruelly bullied'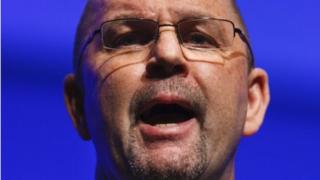 The outgoing chairman of the Police Federation of England and Wales claimed he was "cruelly bullied" by senior colleagues as he tried to reform the organisation, it has emerged.
In an email to the federation's Joint Central Committee, published by MPs, Steve Williams told some of its members their actions had been "unacceptable".
He wrote that he had been "ridiculed".
The federation's treasurer, Martyn Mordecai, told MPs he was unaware of the bullying allegations.
Mr Mordecai was appearing before the Home Affairs Select Committee along with Sir David Normington, who published a damning report in January saying the it should be changed from "top to bottom".
Sir David told the committee Mr Williams had been under "sustained attack from within the federation" since setting up the review.
On Monday, Mr Williams and federation general secretary Ian Rennie both announced they would retire in May.
In his email, released earlier after the federation's former communications director gave evidence before the Home Affairs Committee, Mr Williams said he had "continually been criticised, ridiculed and verbally attacked" for supporting Sir David's recommendations.
'Simply wrong'
"Whilst accepting emotions are running high in the advent of inevitable change, at times I have genuinely felt that I have been gratuitously and cruelly bullied and humiliated," he told the federation's committee.
"I seriously need you all to know that the behaviour from some, recently directed publicly and critically towards me, in my opinion is totally unacceptable and for me personally a straw that edged on breaking the camel's back."
Mr Williams told his federation colleagues the treatment he himself had received had been "simply wrong", adding that colleagues should not behave that way to each other and that it was worse because he considered many of them to be his friends.
Speaking about his predecessor, who died last year at the age of 57 just before he was due to step down, Mr Williams added: "We all saw what happened to our friend and colleague Paul McKeever, and with a young family I do not intend to let the same thing happen to me."
Announcing his retirement on Monday, Mr Williams said the Normington Review had given the federation's leadership a "clear mandate" to make changes.
He added: "Over the last few months, despite at times some significant challenges and opposition along the way, I have tried to manoeuvre the organisation to a place whereby we can start to deliver what is best for the Police Federation, its members and the British police service as a whole."
Home Secretary Theresa May, who appeared before the committee of MPs earlier, said she was "concerned" by Mr Williams's email.
"I would have hoped the chairman would have had the full support of the federation, given what the Normington Review showed," she added.