Phone-hacking: Managing editor denies police payments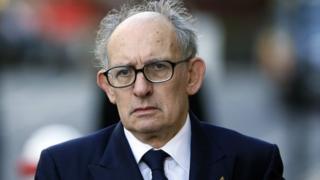 The former managing editor of the News of the World has told a court he would tell a reporter to "clear off" if they asked him to authorise payments to police officers.
On his first day in the witness box Stuart Kuttner said he did not sanction payments to police made by the paper's former royal editor Clive Goodman.
Mr Kuttner is not charged in connection with the payments.
He denies a charge of conspiring to intercept voicemails.
Two of the payments - one for £1,000 and one for £750 - were requested by Mr Goodman to pay for two royal telephone directories. The prosecution allege the books were bought by Mr Goodman from a police officer.
'Extremely irritated'
But when asked by his lawyer Jonathan Caplan QC, if he remembered a conversation about paying a for the directories, Mr Kuttner said: "No, if Clive Goodman or anyone else said, would I sign a document to pay a police officer, I would have told them to clear off."
The court heard that in 2006 Mr Goodman had emailed the managing editor's office requesting authorisation for payments, and Mr Kuttner was asked if he remembered these requests.
He said: "I do vaguely, all this takes me back to the unceasing bombardment by Clive Goodman alone about payments.
He added: "It was an attempt to get round things... I was extremely irritated at the time, and extremely irritated now."
Mr Kuttner also denied having any conversations with Mr Goodman in connection with payments to a person referred to in court as "Mr Alexander" - which was a name used by the private investigator Glenn Mulcaire.
When asked about his authorisation of cash payments to anonymous sources, he said: "I took a view that newspapers by their nature will have confidential informants.
"I took a view that longstanding staff should be trusted, and I was not unhappy to approve occasionally such payments."
Mr Kuttner was the defunct newspaper's managing editor for 22 years, and had been its deputy editor prior to that.
He is being tried alongside seven other defendants all of whom deny the charges against them.
The trial continues.