Max Clifford trial: Des O'Connor says publicist 'charming'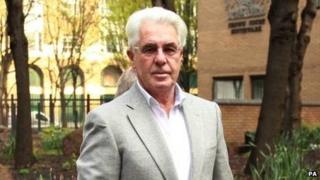 Chat show host Des O'Connor has told Max Clifford's indecent assault trial the publicist was "charming" and acted with "integrity".
The 82-year-old told Southwark Crown Court Mr Clifford was "always pleasant and friendly" when he attended filming for the Des O'Connor Tonight show.
Mr O'Connor also said he was "impressed" by Mr Clifford's commitment to children's charities.
Mr Clifford, 70, from Hersham, Surrey, denies 11 counts of indecent assault.
The charges relate to seven alleged victims aged 14 to 19 and are alleged to have happened between 1966-84.
'He cared'
Mr O'Connor - who hosted the Des O'Connor Tonight show from 1977 to 2002 - said Mr Clifford would often visit ITV's Teddington studios with his client, comedian Freddie Starr, who was a regular guest.
Asked whether he ever witnessed him act unprofessionally, Mr O'Connor replied: "Never. I don't think he would ever need to in any shape or form.
"He was just there to accompany his client if there was any problem."
Appearing as a defence witness, Mr O'Connor said he became friends with Mr Clifford after he and his wife were invited to charity functions in the early 2000s.
"It impressed me he cared," Mr O'Connor said. "He was genuinely, genuinely concerned about the illnesses of the children."
Mr O'Connor added: "I can't imagine him being anything other than honest and with integrity."
'Average'
The trial also heard further evidence on Tuesday concerning the size of Mr Clifford's penis.
It has previously heard claims that Clifford has a "micro-penis", while one woman told the court it was "enormous".
Concluding the defence case, Richard Horwell QC told the jury that an agreed fact in the case was that a doctor had measured his client's penis and declared it "within the average range for a Caucasian male of Mr Clifford's age".
The trial continues.