Life on the front line after the benefits cap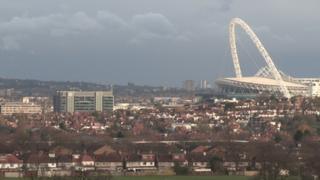 It is more than six months since the government's benefits cap was introduced, with the aim of encouraging people into work. Panorama followed council officers in the London Borough of Brent for seven months to find out how it was affecting families.
"I don't know how anyone can be rich and proud on benefits. For me, it's very shameful. I hate being in this situation. I hate having to rely on the government," said single mother-of-two Tanya Blake.
She is head of one of the 38,000 households in England, Scotland and Wales that have seen their benefits capped at £26,000 a year since the measure was introduced last April.
To avoid being capped she has been trying to find a job, which must be for more than 16 hours a week. Some 60% of those capped are single parents, who are treated in the same way as couples.
Under the policy, couples with or without children, or lone parents with a child, can claim £500 a week in benefits - single adults can claim no more than £350 a week.
In comparison, the average UK salary of £27,000 works out at about £400 take-home pay a week.
New mother
It applies to people receiving jobseeker's allowance, child benefit, child tax credits, housing benefits and other key support from the government. No-one who works enough hours to claim working tax credit is affected.
Ms Blake was moved to a home outside Brent to Notting Hill three years ago and the council paid her £500-a-week rent. But since the cap came in, she has lost £200 a week and all her benefits go on rent.
"I need a job and cheaper accommodation so then I've got more money to spend on the household and the boys, because it isn't cheap," she says.
"I don't blame them what they [the government] are doing, getting lazy people back to work. But I've just had a baby. When he's six months or seven months and he's ready to go back into nursery, then yes, I can go back to work, but it's hard."
Ms Blake discovered from council advisers that she had been given a temporary benefit top-up called discretionary housing benefit because her child is under one. By the end of filming the council had managed to find her a cheaper privately rented property in Brent - but she was still unemployed.
About £95bn a year is currently paid in benefits to families of working age. Iain Duncan Smith, the Work and Pensions Secretary, said the cap would return "fairness to the benefits system" and provide an incentive for people to work. The government hopes the cap will save about £110m in the first year, and £300m over the next two years.
Labour supports the idea of a cap, but is considering having it set at different levels in different parts of the country.
Latest figures to the end of January from the Department for Work and Pensions showed that some 10,900 households - 28% - had come off the cap since last April. Some 4,250, a tenth of the total of those capped, had found employment.
Evicted tenants
Of the 20 local authorities with the highest number of households affected by the benefit cap, only one - Birmingham - was outside London.
Across Britain, most claimants' rents are covered by housing benefit - but rents in the capital are expensive and councils fear the cap could result in people losing their homes.
Councils such as Brent are also struggling because, in 2011, the government cut what they could pay private landlords.
Laurence Coaker, Brent's head of housing needs, said some private landlords were losing £200 or £300 a week, so they evicted tenants and refused to relet their accommodation to the council.
"By putting on a cap, which is for the whole country, it hasn't worked for London or the South East," he said.
"What we're having to do is to find accommodation which the households can afford by claiming the housing benefit, but that's outside of Brent, and families don't want to go there, understandably, because they've lived in Brent all their lives."
Since changes to the welfare system began in 2010, Brent says 549 households have been moved to accommodation outside the borough.
Entire life
Mr Coaker gave evidence to MPs at the Work and Pensions Select Committee three months after the cap was introduced.
"I see the impact and the distress on these families... children having to move schools and being located to other parts of the country. I didn't get a sense that the politicians were aware of that or the same empathy of what is actually happening on the ground," he said afterwards.
Large families, such as that of Awes Osman, who originally came from Somalia and has lived in Brent for 23 years, are worst hit.
He has seven children and the rent for his four-bedroom house was around £500 a week, but that is the total amount of benefits he received after the cap. The council believed his only option was moving to cheaper accommodation, in Birmingham.
"I've never been to Birmingham. We lose everything if we go to Birmingham. If we lose the school, that will be the biggest damage. And we have to lose our job as well. I live all my entire life in London," he said.
A council investigation later proved he and his wife were legitimately working and were not subject to the cap. Although the family moved to Birmingham, they rarely lived there, preferring to stay with relatives in Brent.
Correction 17 April 2014: This report has been amended to clarify that average weekly income is £400 rather than £500, which is the pre-tax figure.
Panorama: Don't Cap My Benefits, BBC One, Thursday 10 April at 21:00 BST and then available in the UK on the BBC iPlayer.