Max Clifford trial: TV stars give defence evidence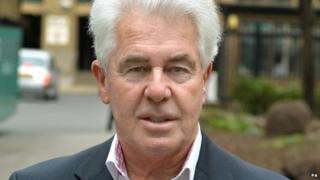 A TV presenter has told Max Clifford's trial on indecent assault charges that she "never" saw women leave his office in distress when she worked for him.
Sky Sports presenter Clare Tomlinson, who was his PA for six months in 1991, added he had "an old school charm".
Actress Pauline Quirke told jurors she had never heard any rumours about him acting inappropriately in the 20 years she had known him.
Mr Clifford, 70, from Hersham, Surrey, denies 11 counts.
The charges relate to seven alleged victims aged 14 to 19 and are alleged to have happened between 1966-84.
Giving evidence on Monday at Southwark Crown Court, Ms Tomlinson laughed as she denied ever seeing Mr Clifford walk naked around his office.
Asked if the office had been "sexually charged", as has been alleged during the case, she said: "Certainly not during my six months, or any time after if I visited the hairdresser downstairs, and went for a cup of tea - it wasn't like that."
She said Mr Clifford was "avuncular with ladies", adding: "He wasn't the sort who would pat people on the bum."
Ms Tomlinson told the court: "In my career subsequently I have experienced sexual bullying and harassment, and I wouldn't be here giving evidence if I believed that Max was capable of that sort of thing."
Birds Of A Feather star Pauline Quirke, who is also a witness for the defence, said they were both vice-patrons of the same charity, the Rhys Daniels Trust.
She said they were friends and described him as a "good, decent man... down to earth, very normal".
"The word I've always associated with Max, since I've known him, is the word 'integrity'," she told jurors.
The actress added that she had never seen or heard of him behaving inappropriately with any woman.
"I've never heard any rumours over the years," she said.
The trial was adjourned until Tuesday.