Church leaders: Poor people are more than 'economic entities'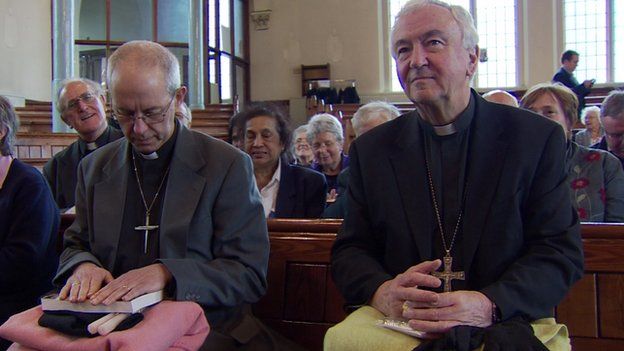 The Archbishop of Canterbury and the Archbishop of Westminster have called for the poor to be recognised for their value as people.
The Most Reverend Justin Welby, leader of the Church of England, said the poor were not just "economic entities".
Cardinal Vincent Nichols, leader of Catholics in England and Wales, said it was "a disgrace" there were people in Britain living in destitution.
The two churches have launched a joint campaign to highlight the issue.
Speaking together on BBC Radio 4's Sunday programme, the two church leaders said the launch of the Listen To God: Hear the Poor initiative would draw attention to the role the two churches played in providing help for the poor.
They said the churches were becoming "more and more engaged in social action", including food banks and night shelters.
The Archbishop of Canterbury told the programme people tended to be wrongly seen for what they could produce as "economic entities", saying they should instead be treated "as far more than that".
He said the joint initiative was not "some sort of stunt" and had been launched during Lent, which he said was "a time of prayer and action".
"When you pray and you spend time both seeking God and listening to God you find that you are drawn inextricably to the face of the poor," Archbishop Welby said.
During the week-long initiative, which will run until Palm Sunday on 13 April, they will visit Anglican and Roman Catholic projects together and highlight the plight of the poor.
Cardinal Nichols repeated his view that it was "a disgrace" that people continued to suffer destitution in a country as rich as the UK.
Asked again about the subject, he said he believed the UK "can afford to support those who are destitute".
Cardinal Nichols said there was a need for a debate about "where charity ends and where state responsibility begins", but added that it was a debate for politicians.
The government insists that its changes to welfare are helping to lift people out of poverty and dependency on welfare.