The Good Life co-writer Bob Larbey dies aged 79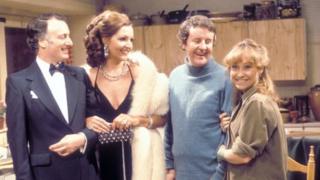 The co-writer of classic BBC sitcom The Good Life, Bob Larbey, has died at the age of 79, his agent has confirmed.
The 1970s show about a self-sufficient couple and their suburban neighbours was among a string of hits written with John Esmonde, who died in 2008.
The Thick of It writer Simon Blackwell said the pair had created "some of the funniest and most perceptive sitcoms" of the last 40 years.
Larbey's solo successes included A Fine Romance and As Time Goes By.
But his biggest hit came alongside Esmonde with The Good Life.
It chronicled a middle-class couple's attempt at self-sufficiency in suburban Surbiton, which did not impress their well-heeled neighbours.
Along with wife Barbara, the character Tom Good, played by Richard Briers, decided to give up his steady office job on his 40th birthday, and convert his garden into an allotment to keep livestock.
Next door were the henpecked Jerry Leadbetter and wife Margot, a social climber who could not bear chickens wandering over from next door.
Over the course of its 30 episodes, the show went on to become a household favourite, pulling in audiences of 15 million a week. One special episode was filmed in front of the Queen, who was said to be a devoted viewer.
Comedy writers and actors have paid tribute. Writer and creator of Reginald Perrin, David Nobbs said: "Imagine if Bob Larbey had never been born. How much less rich British TV Comedy would have been."
John Challis, Boycie in Only Fools and Horses, paid tribute: "First John Sullivan & now Bob Larbey who wrote Please Sir, Good Life & Ever Decreasing Circles. Will anyone match them?"
Larbey, who died on Monday, was born in 1934 in south London.
He and school friend Esmonde started out writing scripts for BBC radio shows, such as I'm Sorry, I'll Read That Again and contributing TV sketches to the Dick Emery Show.
Their idea for a comedy set in a London secondary school was turned down by the BBC, but became a major hit for ITV as Please Sir! in 1968.
It featured John Alderton as a young, newly qualified teacher who is put in charge of the school's rowdiest class - eventually winning them over with his compassion. Its success led to a feature film and a follow-up series called the Fenn Street Gang.
After their even bigger success with The Good Life, Larbey and Esmonde created a string of comedy series which ran for varying lengths of time. They twice teamed up again with Good Life star Richard Briers, for five series of Ever Decreasing Circles in the 1980s and one series of Down To Earth in 1995
Peter Egan, who played Paul Ryman alongside Briers, tweeted: "Very sad to hear this BBC News. He & John Esmonde were a gr8 team He was a lovely man, gentle humour, gr8 humanity. He will be missed Sad to hear he's gone."
Enduring success
The writers' other big hit in the 1980s - also running for five series - was Brush Strokes, which chronicled the adventures of ladies' man and house painter Jacko, played by Karl Howman.
Actress Jackie Lye, who played Sandra the secretary, described how Larbey would write extra scenes for the show if their script read-through came in under time.
"(He) and co writer John Esmonde would go off in a room and write another two minutes worth of comedy gold," she said.
"They'd come out an hour later with the most fantastic scene - we all loved it if it was for us, he was fantastic."
Karl Howman also starred in Mulberry, as the mysterious servant of spinster Miss Farnaby.
Larbey also enjoyed great success with his solo projects, which included writing the screenplays for the first four episodes of The Darling Buds of May from a novel by H.E. Bates. It was a massive ratings hit for ITV and provided Sir David Jason with his first major success away from Only Fools and Horses.
He also penned two hugely significant TV roles for Dame Judi Dench. First the future Oscar-winner appeared alongside her husband Michael Williams in A Fine Romance from 1981 to 1984.
Then she starred opposite Geoffrey Palmer in As Time Goes By, which ran for nine series and a couple of reunion specials between 1992 and 2005.