Max Clifford trial: Diaries were 'absolutely not' destroyed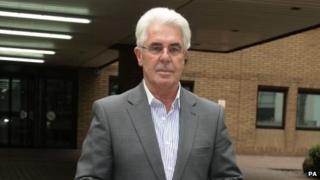 Diaries covering years in which Max Clifford is accused of indecent assault were "absolutely not" removed and destroyed, a court has heard.
Ann Duffy, Mr Clifford's office manager, disputed police claims the diaries had not been in his office when it was searched in 2012.
The court also heard from witnesses who spoke positively about the publicist's character and behaviour.
Mr Clifford, 70, from Hersham, Surrey, denies 11 counts of indecent assault.
The charges relate to seven alleged victims aged 14 to 19 with the offences alleged to have happened between 1966 and 1984.
In a cupboard
The jury at Southwark Crown Court has heard that diaries for 1977, 1978 and 1985 were not found when police searched Mr Clifford's office in December 2012.
But Ms Duffy said the diaries had been in a cupboard in the office and that officers did not seize them.
She told the court she put all the remaining diaries into storage the following January, before retrieving them in February and handing them over to Mr Clifford's legal team.
She said she did not know why a diary for 1985 was missing.
The police have testified that they did not see the 1979-99 diaries during their search of the office and would have seized them if they had.
Glamorous parties
Ms Duffy also told the court that her boss was "not an admin man" and he had "no awareness" of archive documents .
Asked if any documents had been removed from the office and destroyed, she said: "Absolutely not."
The court also heard from a number of women who had spent time with Mr Clifford.
Jilly Johnson - a former model - said Mr Clifford always acted "respectfully" towards her.
She said he acted as a mentor after they met at "glamorous parties" when she was 17 and had never behaved in an "untoward or inappropriate" way.
Another woman who was a babysitter for the publicist's daughter said she "always felt comfortable" in his company.
Diedra Taylor said she offered to be a character witness after Mr Clifford was arrested.
Also giving evidence for the defence, a woman who used to work at Mr Clifford's office in central London described claims there was a sexually charged atmosphere there as "absolute nonsense".
The witness, who cannot be named, said she could not remember a woman she knew telling her that Mr Clifford had exposed himself in the office.
She said: "If a friend had said she had been assaulted, I think that is something that would have stuck in my mind."
Hero
Tina Tolfrey, a defence witness who knows Mr Clifford from work he did at Chase Children's Hospice, said the publicist was a hero to many there.
She told the court he had arranged for her family to meet Simon Cowell and organised a trip to a Disney resort.
"He makes dreams come true for the children and their siblings," Ms Tolfrey said.
Asked if she had ever seen him behave inappropriately, she replied: "Absolutely never. Categorically no.
"He's the gentlest, kindest person."
The trial continues on Monday.