Baby sling warning after child suffocates in 10-minute walk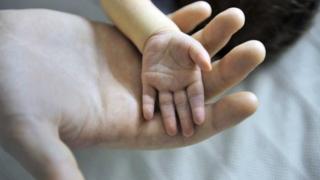 Concern has been raised over the use of baby slings after an inquest found that a five-week-old baby suffocated in one while his mother took him for a walk.
Marianne Matthews' son Eric died after a 10-minute outing on Christmas Eve last year, the inquest heard.
In his narrative verdict, coroner Richard Brittain said Mrs Matthews' use of the sling had not been inappropriate or incorrect.
Parents have since been urged to be extra vigilant before using slings.
During the inquest at St Pancras Coroner's Court in London Mrs Matthews is reported to have said that she did not believe other parents were aware of the potential dangers of slings.
'Ripple of fear'
The inquest was told that six children from the UK and a further 16 from the US and Canada have died in slings.
After returning from their walk, Eric's parents found he had blood coming from his nose. He died eight days later at Great Ormond Street children's hospital in London on 1 January.
Siobhan Freegard, a co-founder of the Netmums website, said this was a particularly tragic case, which had sent "a ripple of fear" through the parenting community.
The mother-of-three, who has used baby slings on all of her children, said: "My heart goes out to the mother. And I do not want to infer that she was doing anything wrong, because she wasn't.
"The general consensus with baby equipment is that there is quite clear safety advice, which parents must read.
"As a general rule of thumb, always make sure you can see your baby, and also that they're within kissing distance from you when they are in the sling."
'Fake slings'
Mrs Freegard said the decision to use a sling was down to the individual parent.
"This is similar to the baby in the bed argument; there is no definitive answer," she said.
But she also said that many parents visiting her site had flagged up concerns over what they described as "fake baby slings".
These are slings which come without comprehensive instructions, and are usually considerably cheaper than High Street prices.
She said that if a parent believed they might have a counterfeit or fake sling they should contact Trading Standards.
Rosie Dodds, who is senior policy adviser for the NCT parents charity, said that while this case was "extremely tragic", slings could be a useful parenting tool.
She said: "Slings can be a useful way of calming a crying baby. It is important that parents know the recommendations for keeping babies as safe as possible when carried in a sling.
"It is more comfortable for parent and baby if the sling is tight enough to hug the baby close.
"Loose fabric will allow your baby to slump down which can hinder their breathing. You need to be able to see their face when glancing down.
"Your baby should be in a position where they are close enough to kiss by tipping your head forward, and a baby should never be curled so their chin is pressed on to their chest as this can restrict their breathing.
"Carrying your baby upright with their hips and legs in the 'M' position is likely to be safest and is most suitable for your baby's developing hips and spine."
Baby slings have in recent years been used by several celebrities including actresses Gwyneth Paltrow and Nicole Kidman.