Max Clifford 'very caring', says ex-mistress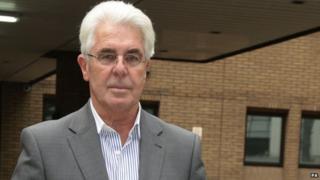 Publicist Max Clifford is "very kind, very caring", a former employee who had an affair with him has said.
The woman said he "told me right at the beginning he wouldn't leave his wife - ever".
She also said she had never seen him walking around the office naked, as the prosecution at Southwark Crown Court has alleged.
Mr Clifford, 70, from Hersham, denies 11 counts of indecent assault relating to seven alleged victims aged 14 to 19.
Appearing as a defence witness on Thursday, the woman said that, after telling her he would never leave his wife, Mr Clifford "asked me if I was sure that I wanted to enter into this relationship".
She said they had carried out an affair for a year when she was 19, and had remained friends after the relationship ended.
She also told the court that she had never had sex with Mr Clifford in his office.
'Very charming'
Mr Clifford has previously admitted having sex in his office with another employee, with whom he had a two-year relationship.
Earlier on Thursday, a physiotherapist who treated Mr Clifford's daughter, Louise, for juvenile arthritis, said the publicist was "very caring".
"He wanted absolutely the best for her," Roberta Jarvis said.
"He was always very concerned about what was going on, how she was being treated and asking for information."
She added: "Very charming. A perfect gentleman as far as I was concerned and very helpful when it came to fundraising."
Ms Jarvis, who said she had never seen Mr Clifford acting inappropriately with women, said he had helped to raise £300,000 for a new hydrotherapy pool.
On Wednesday, Mr Clifford's daughter told the jury that claims she knew about an alleged assault by her father in 1983 were "completely untrue".
One of Mr Clifford's accusers has said that, when she was 12, he assaulted her in a jacuzzi on holiday in Spain, after his daughter had left for a period of time.
Ms Jarvis said that, at that time, Louise Clifford "would have been unstable".
"In my opinion I don't think Louise would have been able to get in or out of the jacuzzi without assistance."
And Dr Ann Hall, a former consultant who treated Ms Clifford at Wexham Park Hospital in Slough, Berkshire, told the court it would have been "impossible" for her to get out of the jacuzzi unaided.