Estimated road repairs cost rises to £12bn, survey says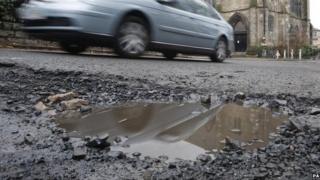 The estimated cost of getting roads in England and Wales back into a "reasonable" condition has increased to £12bn, an annual report has suggested.
The Asphalt Industry Alliance survey of local authorities said the given cost had risen from £10.5bn in 2013, despite two million potholes being filled.
Council leaders said the "roads crisis" was "escalating at an alarming rate".
The government said funding had been significantly increased to help councils tackle the problem.
Fixing holes
According to the report, local authorities said it would take them more than a decade to get the highways back to a decent state, with the estimated cost increasing by £1.5bn over the past 12 months.
The study said too much money was still being spent on fixing sudden cracks and patching holes rather than on long-term maintenance and investment.
It also said that much of the pothole work done over the last 12 months had been counteracted by the high levels of winter rainfall.
As many as 65% of local authorities in England had been affected by the "winter deluge", it said.
The full cost of the severe winter weather is not entirely reflected in the report, but councils said the gap between the funds they needed and the amount they actually got had been narrowing.
The government said an extra £183m pounds had been made available this year to help the areas worst affected by storms and floods.
Asphalt Industry Alliance chairman Alan Mackenzie said: "These figures are disappointing for everyone who has worked hard together on the highway maintenance efficiency programme initiated by the Department for Transport.
"It's thanks to this programme that so many highways departments have successfully made the case to their councils to invest in more repair to avoid further deterioration and costs."
He added: "The government has recently made significant additional funds available to help combat the results of the relentless rainfall this winter but money spent on repairing damage never goes as far as money invested in planned, preventative maintenance.
"It costs at least 20 times more per square metre to fill a pothole than it does to resurface a road."
'Endangering lives'
RAC technical director David Bizley said it was "no great surprise" that the estimated cost of repairing roads had increased.
"If you don't resurface roads properly at regular intervals and reconstruct them when they reach the end of their design lives, you end up with roads riddled with potholes, endangering lives and costing motorists millions in vehicle repairs," he said.
The AA said a survey of 24,000 of its members had found that 40% said their local roads were in a terrible condition this March compared with 29% last October.
AA president Edmund King said: "Bad surfaces with millions of potholes can cause death and injury - especially to those on two wheels - and lead to expensive damage and insurance claims."
Peter Box, chairman of the Local Government Association economy and transport board, said: "Councils have long warned that our already dilapidated road network could not cope with another extreme winter, and the unprecedented recent flooding experienced across the country has left behind a trail of destruction to our highways."
Some 74% of local authorities responsible for roads in England and Wales took part in the 19th Annual Local Authority Road Maintenance study.