Spanish ambassador summoned over Gibraltar 'incursion'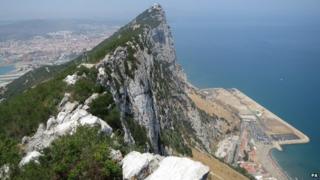 The Spanish ambassador has been summoned to the Foreign Office after a "serious incursion" by Spanish ships into waters off Gibraltar.
Europe Minister David Lidington called the act "unlawful" and "dangerous" and urged Spain not to repeat it.
The BBC understands there was a minor collision between a Spanish Guardia Civil vessel and a Royal Gibraltar Police vessel on Tuesday evening.
The incident is the latest in a series to raise tensions in the area.
The Guardia Civil vessel entered Gibraltar's waters alongside a Spanish state research ship.
The BBC understands that one of the Royal Navy's two patrol boats based in Gibraltar was at sea at the time of the confrontation and may have issued a warning.
'Provocative'
Mr Lidington said: "Her Majesty's Government takes a grave view of any attempt by Spain to exert authority or control within British Gibraltar territorial waters and considers such incursions as a violation of our sovereignty.
"I strongly condemn this provocative incursion and urge the Spanish government to ensure that it is not repeated."
There was no immediate comment by Spain.
Mr Lidington said the government would continue "to take whatever action we consider necessary to uphold British sovereignty and the interests of Gibraltar, its people, its security and economy".
"Not only were the actions of the survey vessel unlawful, but it was accompanied by a Spanish Guardia Civil vessel whose dangerous manoeuvring presented a significant safety concern on the waters," he added.
Asked if David Cameron planned to speak to his Spanish counterpart Mariano Rajoy about the incursion, the prime minister's spokesman said: "We are going to maintain our very clear approach to this, including raising it directly with the Spanish government.
"That's what happened today when the Spanish ambassador was summoned to the Foreign Office.
"We would strongly urge the Spanish authorities to desist."
Artificial reef
It is the fourth time the Spanish ambassador, Federico Trillo, has been summoned to the Foreign Office in relation to Gibraltar since the government in Madrid took office in December 2011.
Relations between London and Madrid have deteriorated since Gibraltar built an artificial reef last year.
Spain said the reef would damage its fishing industry and, shortly afterwards, imposed stricter controls at its border crossing with Gibraltar.
In February, the Foreign Office issued a formal protest after a Spanish warship entered waters around Gibraltar and disrupted a Royal Navy training exercise.
Spain disputes UK sovereignty over Gibraltar, which has been controlled by Britain since 1713.